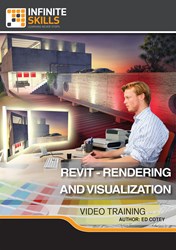 Learn Revit - Rendering and Visualization at your own pace.
(PRWEB) February 12, 2014
Software training firm Infinite Skills Inc. last week introduced its "Revit - Rendering and Visualization Tutorial," an advanced-level course targeting Revit's tools for producing photorealistic, information-dense, 3D models of building projects.
Revit allows architects and engineers to design 3D models of buildings and their components, creating plans for all the stages in a building's lifecycle, from concept and design, to construction and eventual demolition. Revit's powerful building models database produces highly detailed models, facilitating interdisciplinary collaboration and the production of client documents throughout the design process.
Infinite Skills' Revit - Rendering and Visualization Tutorial provides a focused training guide designed to allow experienced Revit users to master all the elements of creating and rendering these highly detailed Revit construction models.
Revit - Rendering and Visualization Video Tutorial - Streaming
Course author Ed Cotey is a commercial interior design, a construction project manager, a CAD consultant, and a college professor. His company, AutoSpec Corporation, provides development work, training, and technical CAD consultation for manufacturers. Cotey also teaches Revit, AutoCAD, and SketchUp at the college level.
Cotey begins here with the basic setup for visualizations, explaining how to create an exterior perspective view, modify the camera view, create an interior perspective, and create and export a complete walk-through.
Cotey then explores lighting features, explaining how to prepare a solar study, define the site's true north and sun path, and create still and single-day, as well as multi-day solar studies.
The course closes with a chapter on rendering, where Cotey explains how to prepare an exterior view for rendering, how to control the rendering with settings, how to work with light groups, and more.
"Revit Architecture is a building information modeling program that provides studies and views of models with realistic visualization along with detailed analytical information," Cotey explains.
"After completing this course, users will be able to create meaningful analytical visualizations conveying designs in most realistic settings possible."
Free demo videos and a full list of course contents can be found on the Revit - Rendering and Visualization training page of the Infinite Skills website:
http://www.infiniteskills.com/training/revit-rendering-and-visualization.html
Infinite Skills offers its Revit - Rendering and Visualization Training Video as a direct download from the company website at a retail price of $24.95. Though the compatibility of programs varies, all Infinite Skills titles and formats are compatible with both Mac and Windows operating systems, and shipping is available around the globe. Additionally, Infinite Skills tutorials are supported by project files which correspond to examples in the videos.
About Infinite Skills Inc.
A leader in the field of software training, Infinite Skills designs its courses on a task-oriented model, teaching complex skills by providing hands-on examples and guiding users as they carry out essential functions. Infinite Skills offers a wide range of software titles available as DVDs, digital downloads, and in iPad editions. Infinite Skills now offers a subscription service, providing access to all its training content for a monthly fee, keeping with company's aim of delivering professional training to customers anywhere they want to learn.