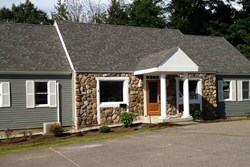 Meredith, NH (PRWEB) February 13, 2014
Charter Trust Company has relocated to new office space in Meredith, NH. Moving from their prior location in the Seneca Ladd building, to their new home at 255 Daniel Webster Highway, next to Lovering Volvo.
The new location will better serve the company's growing wealth management clientele in the Meredith and surrounding area. Bette Kapp, Senior Vice President & Wealth Advisor says "Our clients love the new office, it's centrally located and easy to park right outside the door"
Founded in 1984, Charter Trust Company is a wealth management firm headquartered in Concord NH. Working confidentially with individuals, families and institutions to: increase wealth through asset allocation, investment management, and charitable giving; and preserve, protect, and transfer wealth through estate planning and business succession strategies, education and philanthropy. The company manages over $1.5 billion in client assets and acts as fiduciaries for clients in 43 states and 3 countries.