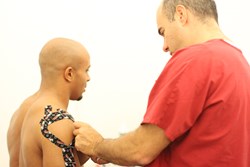 It can also help assist patients who are undergoing physical therapy, keeping them from accumulating more trauma between therapy sessions
New York, NY (PRWEB) February 12, 2014
Dr Steven Shoshany of New York City recently became a certified RockTape Performance Movement Taping provider. Ensuring that his patients have the latest in rehabilitation, recovery, and performance tools is one of the foundations of Dr Shoshany's NYC practice.
While he is a chiropractor, Dr Steven Shoshany works alongside many other specialists to provide a patient centered, team based approach to quickly and efficiently help end pain for his patients. RockTape products have been employed at his NYC practice for a long time. The ability to help the athletically inclined patients stay ahead of their competition, and stay pain free during activity has been integral in keeping them from compounding injuries, or acquiring new injuries resulting from active lifestyles.
An active lifestyle isn't necessary for most New Yorkers to pick up injuries that are more commonly seen in athletes, just getting around the city can be a hectic race, full of perils, and potential accidents. Injuries that effect, not just the spine but ligaments and tendons of the knee and ankle are fairly common in the city. Stress has also been shown to contribute to immunodepression, and there are few places less stressful than New York City. Put the aforementioned factors together and its quite easy for someone to get hurt, and not be able to recover for long periods of time, resulting in prolonged pain and an increase in the likelihood of chronic pain and repetitive injuries to the same area of the body.
Performance Movement Taping (PMT) is applied using the concepts of "…movement strategies and performance enhancement via functional taping methods." Furthermore a PMT provider understands "how to utilize tape to improve movement, posture, performance and relieve the pain of common injuries." (RockTape). Dr Shoshany was among the first certified providers of therapeutic taping services using Kinesio Taping products and methods in New York, and he has also helped the public understand its use through media appearances, especially following the 2008 summer olympics. He has since expanded his use of taping methods to include the use of RockTape products, and has been using them since their infancy. He finds that RockTape has some of the best quality adhesive and are also made of a much more durable material.
"I can use assisting and bracing techniques using elastic therapeutic tape to brace the joint of a competitive athlete, or to improve the lymphatic drainage of an injured muscle. I can use the same techniques on an accountant who just wants to be able to go on a hike on the weekends without being limited by knee pain or a lingering injury. It can also help assist patients who are undergoing physical therapy, keeping them from accumulating more trauma between therapy sessions," (Dr Shoshany). He goes on to add: "Its not like a pain medication, it wont interact with other treatments we might be using to help get the patient out of pain. I use it fairly often for knee and shoulder injuries in a lot of the Crossfit enthusiasts I treat. I know its very difficult for them to take time off from working out, and with performance movement taping I can also tape them to help in specific movements, helping them become even more competitive when they do get back to training."
For more information about Dr Shoshany, therapeutic taping, Performance Movement Taping, Chiropractic, or any other treatments and techniques offered by Dr Steven Shoshany, visit http://www.drshoshany.com.