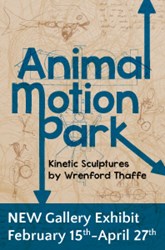 Wrenford's work embodies so many learning goals here at the Museum—art, science, engineering, recycling, and more.
Boston, MA (PRWEB) February 13, 2014
A snake slithers through the grass. A bird flutters overhead. A fish pumps its fins. Unlike ordinary animals found in a park, these creatures are kinetic sculptures that explore and examine movement in the world around us. They, along with others kinetic critters, will be on view in the new exhibit "Animal Motion Park" opening February 15 at Boston Children's Museum.
Wrenford Thaffe is the artist and engineer behind these unique sculptures. A recent graduate from Amherst College, he uses recycled parts, ranging from wood and bolts to old electronics, to replicate movement found in nature. Some of these sculptures are operated by hand cranks setting gears in motion while others make use of microchips and remote controls. At the root of each sculpture is the basic question of how to recreate a living creature. Wrenford describes his sculptures as being at the interface of science and art. "These interactive devices echo the complexity found in nature and the interconnection between the natural and the physical world," said Wrenford Thaffe.
The exhibit has a timely opening right at the start of February school vacation week, conveniently themed this year around everything engineering. "Wrenford's work embodies so many learning goals here at the Museum—art, science, engineering, recycling, and more. It is the perfect show for our Gallery to see these forces united," says Collections Manager Rachel Farkas.
While the outdoor parks may be snowy and frozen, visit Boston Children's Museum to explore the "Animal Motion Park," on display through Sunday, April 27.
About Boston Children's Museum
Boston Children's Museum engages children and families in joyful discovery experiences that instill an appreciation of our world, develop foundational skills, and spark a lifelong love of learning. More information about Boston Children's Museum can be found at http://www.BostonChildrensMuseum.org. Become a fan of the Museum on Facebook at https://www.facebook.com/BostonChildrensMuseum and follow us on Twitter at https://twitter.com/BosChildMuseum.
Hours and Admission
The Museum is open daily from 10:00 a.m. – 5:00 p.m. and Fridays until 9:00 p.m. Adults, $14, children (1-15) and senior citizens, $14; children under 12 months and Museum members are always free. Fridays 5:00 p.m. – 9:00 p.m., all visitors $1.
###