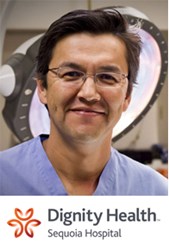 Education is so important for patients. I am very excited to participate in this live webinar," stated Dr. Luis Castro.
Redwood City, CA (PRWEB) February 12, 2014
HeartValveSurgery.com, the largest educational resource and online community of patients with heart valve disease, announced today that a special one-hour webinar titled, "Heart Valve Surgery: What Can Patients Expect?", with Luis Castro, MD will be held on February 26, 2014 at 12:00pm (PST). Patients can register for this free event by clicking here.
"Given Dr. Castro's patient-advocacy efforts within our community, we are very excited that he will be the featured speaker of this special webinar," stated Adam Pick, founder of HeartValveSurgery.com.
Dr. Luis Castro is the Medical Director of Cardiovascular Surgery at Sequoia Hospital's Heart & Vascular Institute. Sequoia's Institute has just received the highest possible ranking by The Society of Thoracic Surgery (STS) for the best outcomes of three cardiac surgical procedures performed at the Redwood City hospital. Sequoia Hospital received a 3-star rating (out of a possible three) for all three measured procedures: Isolated Coronary Bypass surgery ISO CABG, Aortic Valve Replacement (AVR), and combined ISO CABG and AVR surgeries.
During his 25-year career, Dr. Castro has performed over 5,000 cardiac procedures of which 3,000 procedures involved heart valve therapy. Dr. Castro specializes in the treatment of mitral valve disease, aortic valve disorders, aortic root reconstruction and atrial fibrillation.
"Education is so important for all patients who are preparing for heart surgery," stated Dr. Castro, who is a member of the American College of Cardiology, the Western Thoracic Surgical Association and the Society of Thoracic Surgeons. "For this reason, I am very excited to participate in this special webinar for patients."
To register for this free event, click here.
About HeartValveSurgery.com
Founded in 2006, HeartValveSurgery.com (HVS) is the world's largest educational resource and online community of patients with heart valve disease. HVS provides patients, their families and their friends a trusted platform for each step in the surgical cycle -- from diagnosis to recovery.
The HVS platform includes a social network, a surgeon finder, a valve clinic directory, a microsite application, an educational video library, a learning center, a book and a blog. During 2012, HeartValveSurgery.com received over 1 million visits.
Contact information:
Contact HeartValveSurgery.com:
Robyn Podell, Director of Communications
(310) 721-0587
robyn(at)heartvalvesurgery(dot)com
About Sequoia Hospital
Sequoia Hospital, a Dignity Health Member, is an accredited, not-for-profit community hospital providing innovative and exceptional health care for generations of Bay Area residents. In 2014, the hospital will celebrate the opening of a rebuilt, state-of-the-art medical campus, including modernized emergency services and an all-new pavilion with three floors of larger, private patient rooms.
Recognized for superior and sustained clinical quality, the hospital received the 2013 America's 50 Best Hospitals Award™ and the 2013 Distinguished Hospital Award for Clinical Excellence™ from HealthGrades®, a leading provider of comprehensive information about physicians and hospitals. Sequoia's Heart and Vascular Institute is a nationally known pioneer in advanced cardiac care. The hospital was voted "A Family Favorite 2013 Best Birth Center and Best Hospital" by readers of Bay Area Parent magazine.
To learn more, please visit our website:
http://www.SequoiaHospital.org