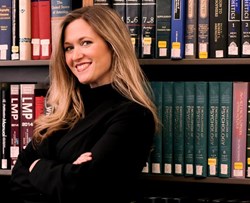 Some MBA students organized Facebook polls to nominate their top professors.
San Francisco, CA (PRWEB) February 12, 2014
PoetsandQuants.com today (Feb. 12) named the world's top 40 business school professors under the age of 40. These young instructors set the benchmark for the future of business education. Poets&Quants' "Top 40 Under 40" excel in the classroom and their respective fields. Most are decades younger than their tenured colleagues and only a few years older than their students. However, they've proven their teaching and research chops by outperforming senior faculty, winning the admiration of their students, and producing standout scholarship.
These superstar instructors represent a wide variety of backgrounds and disciplines, ranging from economics to behavioral science, marketing to entrepreneurship. They hail from the United States, Great Britain, Germany, Canada, India, China, Mexico, and Belgium, among others. Their interests range from big data to entertainment marketing to negotiation strategy. 
A few common characteristics cut through the entire group: Most, if not all, of the top professors leverage their youthful energy and Generation Y knowledge to create an engaging classroom environment, they build genuine and meaningful relationships with their students, and they pursue another profession or serious hobby on the side.
The Top 40 Include:
Deepak Malhotra, 38, Harvard Business School: Top CEOs, advisors to heads of state, and even former supermodel Tyra Banks turn to Harvard's Deepak Malhotra for advice and coaching. The master negotiator is a sought-after instructor, and MBAs have tapped him twice to present the end-of-year lecture.
Leslie Robinson, 38, Dartmouth College (Tuck): One of the few professors to make a repeat appearance on "Top 40 Under 40," Leslie Robinson brings "accounting to life" for her students. From reviewing their backgrounds before class to sleeping in the backseat of a van for a 200-mile overnight relay with her MBAs, LesRob (as she's affectionately called) has inspired a near cult-like adoration among her students--an entire class once serenaded her with Simon & Garfunkel's "Mrs. Robinson."
Markus Giesler, 37, York University (Schulich): The youngest marketing professor to be hired by a North American B-school, Giesler is known as a dynamic instructor willing to go to extreme lengths to drive a point home, even setting his PhD dissertation on fire for a demonstration. The German-born professor eschews textbooks in favor of real-world cases and hands-on experiences. He spends summers traversing Europe with his rock band.
Xiaoyan Zhang, 37, Purdue University, (Krannert): The associate professor of finance is what you might call a "dual threat" business professor: a world-class scholar and instructor. The lively Zhang brings so much energy to the classroom that she sheds 3 pounds for every eight-week course she teaches; she also boasts a rare perfect score of 10.0/10.0 on Purdue's course evaluation system.
To uncover this remarkable group of men and women, Poets&Quants asked B-school students, officials, faculty, and alumni for their top picks and put out an open nomination. The results poured in from U.S. heavyweights like Harvard, lesser-known programs flung across the country, and a handful of international institutions, such as Europe's ESSEC and IE business schools. Some MBA students organized Facebook polls to select their top prof nomination, others wrote vivid descriptions and robust arguments for why their instructors deserved consideration. Research chops were important but Poets&Quants gave more weight to teaching--even the best researchers must convey their material compellingly to be effective in the classroom.
Candidates were assessed according to the following criteria:
+ Remarkable impact on students
+ Impactful contributions to her/his respective field(s)
+ Noteworthy influence on business practices, public policy, business trends
+ Notable career milestones (i.e. youngest professor to…)
+ Unique teaching style and techniques
+ Significant public profile or reputation
Visit Poets&Quants' feature story and full listing for complete profiles of each professor, including student testimonials, academic histories, fun facts, and teaching and research accolades.
About Poets&Quants: Poets&Quants is the leading sources of MBA news and analysis by former BusinessWeek Executive Editor and Fast Company Editor-in-Chief John A. Byrne. The site offers thoughtful commentary, rigorous rankings, insider interviews, and varied perspectives. Poets&Quants curates a wide range of information and voices, including deans, MBA students, alumni, admissions officers, and B-school consultants. 
Contact: Lauren Everitt , laurenkeveritt(at)gmail(dot)com, +1 979.417.6516