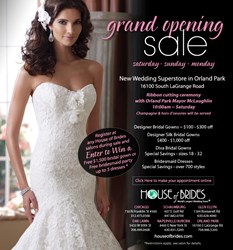 Industry Consultant Dale Buziecki says of the weekend's events, "The Ribbon-Cutting Ceremony with Mayor McLaughlin is the perfect kick-off to 3 days of savings, giveaways and celebration of House of Brides' new superstore in Orland Park!"
Orland Park, IL (PRWEB) February 12, 2014
House of Brides will mark the official opening of its Orland Park salon with a Ribbon Cutting Ceremony on Saturday, February 15th at 10:00a.m. Orland Park Mayor McLaughlin will perform the ribbon cutting duty alongside the retailer's President Eva Buziecki and staff.
A reception will follow the ceremony with complimentary champagne and refreshments served. Area restaurants Rock Bottom Brewery and Mimi's Café are providing food for the event.
The retailer then hosts a Grand Opening Sale Saturday February 15th, Sunday February 16th and Monday February 17th at all 6 House of Brides salons. The salons are located in Chicago, Schaumburg, Glen Ellyn, Oak Lawn, Aurora and the wedding superstore in Orland Park.
The Grand Opening Sale features deep discounts storewide. Bridal gowns are on sale $100 - $300 off. Designer Silk gowns are $400 - $1,000 off and Diva wedding dresses sizes 18 – 32 will have special savings.
Bridesmaid dresses are also on sale including new 2014 styles.
To celebrate the grand opening, customers who register at the salons during the sale are entered to win a free $1,500 bridal gown of their choice or a free bridesmaid party of up to 5 dresses.
The events will showcase the Orland Park salon at 16100 South LaGrange Road. The retailer boasts the salon as a wedding superstore featuring the largest collection of bridal and bridesmaid dresses in Chicagoland.
Industry Consultant Dale Buziecki says of the weekend's events, "The Ribbon-Cutting Ceremony with Mayor McLaughlin is the perfect kick-off to 3 days of savings, giveaways and celebration of House of Brides' new superstore in Orland Park!"
The Ribbon-Cutting Ceremony is complimentary and open to the public. The festivities begin at 10:00am with the presentation of Mayor McLaughlin and President Eva Buziecki. Refreshments follow.
Appointments are suggested for the Grand Opening Sale.
To make an appointment online, customers can click Appointments on the website. Or customers can visit Locations & Hours to find the most convenient salon.
To view the Grand Opening Sale ad, visit houseofbrides.com and click Store Promotions for full details.
About House of Brides:
House of Brides established its first brick-and-mortar store in 1929 and has since grown to 11 Chicagoland stores and global E-Commerce website, houseofbrides.com. Millions of brides and their wedding parties visit the salons and global website for over 50,000 wedding and special event products