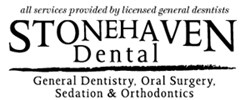 Orem, UT (PRWEB) February 12, 2014
Sedation techniques have been gaining more and more support from not only the medical community but also the dental community. It is a completely safe way to successfully eradicate any fear or anxiety that patients might be feeling during any given procedure. Increasing amounts of dentists in Orem are opting for sedation techniques rather than risking potential problems with other numbing/distraction methods. Stonehaven has acquired a certain mastery of these extremely beneficial techniques, much to the delight and continued satisfaction of their clients. Stonehaven's multiple dental offices in Utah each offer this sedation dentistry as a way for clients to completely eliminate their fear and anxiety. Patients are able to go to sleep and wake up with the procedure having been completed to perfection. This is an ideal scenario for any patient, especially kids or those who struggle with unfortunately high anxiety.
Suffered by millions worldwide, anxiety is already such an unfortunate phenomenon. There's no proper justification for further escalation by the added pressure of an unfamiliar setting and orally intrusive procedures. This is why Stonehaven Dental has been offering sedation dentistry to their patients throughout their dental offices in Utah. Sedation dentistry is a great alternative to sweating through a procedure that one might not be fully comfortable with due to fear or anxiety. Under the effects of the safe sedation techniques that Stonehaven Dental has perfected, patients will feel no pain or fear, a huge attribution that will do quite well with a patients' overall satisfaction.
In addition to their already impressive repertoire of procedures and services to benefit the patients in their entirety, Stonehaven is very pleased to be able to offer top of the line sedation techniques to completely ease any anxiety or fear that their patients might be feeling. It's this kind of attention to detail and the desires of their patients that make Stonehaven the leading dentists in Orem. The quality of the procedures is high quality, and will undeniably be supplemented by such a positive in-office experience. This kind of sedation treatment is ideal for children, families, people with anxiety, or any patient who simply doesn't wish to see the procedure. For any pain-free, cutting edge dentistry scenario, Stonehaven is proving to be the best choice. For more information about their services, visit their website at http://stonehavendental.com/.