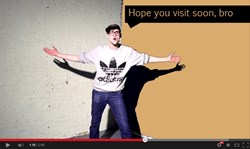 Hope you visit soon, bro
Brooklyn, NY (PRWEB) February 12, 2014
Watch the fun dance music video on his website then check him out live in Brooklyn, NY at Glasslands on Monday, February 17th. Tickets just $10 and the show starts at 8:30pm. Get tickets here.
HoneyChrome harnesses the sound-energy and looping power of the Korg Kaossilator Pro to create uplifting freestyle dance music (audience participation encouraged.) With fully produced vocal dance songs ranging from sticky pop tunes and serious big-room dance ballads; mic rocking, beat making and stage dancing HoneyChrome is thrilled to be playing at the popular venue. Opening acts include Juilliard trained songwriter St. Lenox, ultra-desirable Belgium pop performer Aline Queen, and hacker musician Patrick Estabrook.
An excerpt from The Chocolate Album press release --
"I took a two year break after my first album to recharge and to find inspiration," says the Philadelphia native. "During that break I attended a bunch of raves both underground and mainstream. Listening to the music and watching people perform I knew it was time to go back into the studio. I wanted to work hard to bring something new both for my fans and for the people who might be hearing me for the first time."
About recording his latest record --
"I was very much on my own. That was both scary and exciting. I went in willing to experiment and take the risks I did not take on my first album. I used all the equipment and tools that I had. If I heard a sound in my head I educated myself and made that mental thought a reality."
Check out HoneyChrome live at Glasslands this Monday Feb. 17th and follow him on Twitter.