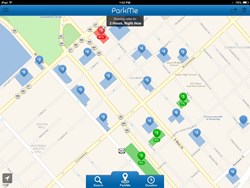 Technology is revolutionizing the definition of better parking experience by giving customers information and allowing them to make choices for themselves. It's a win-win situation for all.
Lexington, KY (PRWEB) February 12, 2014
The Lexington Parking Authority (LPA) for the City of Lexington, KY recently completed a full integration with parking solutions providers Scheidt & Bachmann, and parking information services provider ParkMe. The integration allows the LPA to offer real-time parking space count information to its visitors, which helps visitors find spaces more easily in LPA parking facilities. This is also an environmental improvement as emissions given off by vehicles circling downtown blocks looking for parking will be lowered.
The interface between S&B's system installed at the LPA facilities and ParkMe allows live data to flow from the S&B system to the ParkMe application which is displayed on the web and in a mobile app so that customers can see in real-time the parking availability and eventually reserve or prebook parking spaces ahead of time.
"There is a general perception that there is not enough parking downtown and that it is a hassle to find available parking spaces," says Gary A. Means, CAPP, the Executive Director of the Lexington Parking Authority. "This interface project eliminates the intimidation and helps make it easier for people to plan their trips ahead of time enabling them to view availability as well as pricing in each parking facility."
The LPA currently uses Scheidt & Bachmann software and hardware to manage the parking access and revenue control systems for four parking facilities owned and managed by the LPA. The interface between the two firms for the LPA uses the Universal Interface module provided in Scheidt & Bachmann's entervo V2R2 software package while utilizing ParkMe's real-time availability software to reach its vast user-base. The integration was completed in January 2014 and is currently being tested live in Lexington specifically for purposes of space availability, reservations and prebooking.
In order to use the application, the customer simply logs into ParkMe's mobile application or online through LPA's website and views pricing rates and occupancy levels for all LPA parking in Lexington. Data regarding real-time space count for each LPA parking facility is communicated between Scheidt & Bachmann entervo software and ParkMe in a background systems information exchange.
"As Lexington grows and becomes denser with drivers, it's exciting to see the city address its needs by adopting smart parking solutions," says Sam Friedman, CEO of ParkMe. "There is a direct correlation between traffic congestion and parking, and ParkMe is eager to work with the LPA to help improve parking for their residents and visitors.
The LPA views the integration as taking parking for Lexington to new heights and pioneering an enhancement in parking technology. "The Parking Industry is shifting from us dictating prices, options and availability to now customers telling us what they want," comments Means. "Technology is revolutionizing the definition of better parking experience by giving customers information and allowing them to make choices for themselves. It's a win-win situation for all."
The Lexington Parking Authority is looking into future plans to expand the space count integration for on-street parking.
About Scheidt & Bachmann
Scheidt & Bachmann has been a leading international transportation solutions provider since 1872. The company's Parking Division offers parking access and revenue control systems to various industry clients including airports, hospitals, universities and municipalities. The entervo software and hardware are made internally at the S&B factory either in the U.S. or Germany headquarters. Scheidt & Bachmann is one of the few PARCS providers who can offer clients the ability to universal interface with third parties. To learn more about entervo's Universal Interface module, please visit http://www.scheidt-bachmann.com or call 781-262-6667.
About ParkMe
Based in Santa Monica, Calif., ParkMe is the leading global provider of real-time parking information to navigation companies and consumers. Consumers can access ParkMe via GPS and in-car navigation systems, ParkMe.com, online widgets, and the iPhone, iPod Touch and iPad app. Founded by Sam Friedman and Alex Israel, ParkMe's mission is to make parking easier, faster and cheaper. The company collects and aggregates data about both on-street and off-street parking, and has built the world's most comprehensive parking database. This includes more than 28,000 worldwide locations in more than 1,800 cities, 50 countries and seven continents. ParkMe can be found on the Web at http://www.ParkMe.com, on Twitter @ParkMe and on Facebook, Facebook.com/ParkMe
ParkMe is backed by a highly respected group of investors, including Fontinalis Partners, IDG Ventures and Angeleno Group. Fontinalis Partners is a leading transportation technology strategic investment firm founded by Bill Ford, Ralph Booth, Mark Schulz, Chris Cheever, and Chris Thomas. IDG Ventures is a global network of venture capital funds with approximately $5 billion under management and a portfolio of over 220 companies built over the last 15 years. Founded in 2001, Angeleno Group is a leading growth equity firm dedicated to investing in next generation energy and natural resources companies globally.
About the Lexington and Fayette County Parking Authority
Created by the Lexington-Fayette Urban County Government in 2006, the goal of the Lexington Parking Authority is to provide, maintain and operate adequate, high-quality, Customer-focused public parking and encourage economic growth. For more information about the Lexington and Fayette County Parking Authority, please visit http://www.lexpark.org.