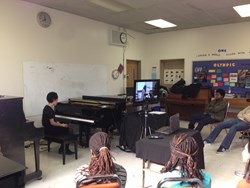 'This remote lesson was a perfect example of how this technology and the unique capabilities of the Disklavier can interactively connect students with top professional musicians,' said Walt Straiton, from Yamaha's Institutional Solutions Group.
Washington, DC (PRWEB) February 12, 2014
Yamaha Corporation of America welcomed District of Columbia public schools as the first public school district in the nation to offer its students Yamaha's interactive piano distance learning technology, allowing them to remotely interface with master teachers and performers from anywhere throughout the country or around the world.
To mark the first-of-its kind partnership, two students from the Duke Ellington School of the Arts in the nation's capital took part last Friday in a "remote" piano lesson via the Internet with the chart-topping Sony Classical recording artist Simone Dinnerstein. The students each played a musical selection on a Yamaha Disklavier reproducing piano at the Ellington School while Ms. Dinnerstein sat at Ballou High School, located across the city, listening, watching and coaching that same piece as it was recreated "live" on a second, Internet-connected Disklavier seamlessly synched to a live Skype broadcast.
First introduced in 1987 and now in its fourth generation of refinements, the Disklavier piano has been imbued with powerful networking capability that enables two or more instruments to be connected over the Internet via Yamaha's proprietary DisklavierTV™ powered by RemoteLive™ technology. In simple terms, this enables a pianist to perform live in one location, while their exact keystrokes and pedal movements are transmitted in real time to the other instrument located anywhere else in the world, along with live streaming video.
During last Friday's crosstown lesson, the keys and pedals on the Disklavier at Ballou High School moved up and down just as each of the two students played the piano located at the Ellington School. The pair of young musicians then watched and listened as Ms. Dinnerstein played to them from another part of D.C. Video-conferencing allowed for real-time communication, as though all participants in the lesson were sitting next to one another.
"This remote lesson was a perfect example of how this technology and the unique capabilities of the Disklavier can interactively connect students with top professional musicians and teachers without the two parties having to be in the same country or city, much less the same room," said Walt Straiton from Yamaha's Institutional Solutions Group. "The Yamaha Disklavier provides unprecedented opportunities for students and schools to engage with musicians and teachers they might not have been able to before, and we hope that the D.C. public schools are the first of many across the country to take advantage of this dynamic connectivity."
The two pianos used in the demonstration today are among five Disklaviers recently purchased for students in D.C. public schools as part of a comprehensive music education initiative undertaken by the Washington, D.C. Department of Education.
Ms. Dinnerstein's remote lesson via the Disklaviers was part of an initiative with elementary and high school students at seven schools in Washington, D. C, which she calls "Bachpacking," because she brings a digital piano provided by Yamaha into schools, taking it from classroom to classroom in order to interact with students in the most personal and meaningful way. The "Bachpacking" initiative in Washington was sponsored by the school district, the Washington Performing Arts Society and Yamaha.
Students from the D.C. schools who took part in the "Bachpacking" program and their parents were also invited to Ms. Dinnerstein's concert on Feb. 9 at the Kennedy Center. Her latest Sony Classical album, "J.S. Bach: Inventions and Sinfonias," debuted at No. 1 on the Billboard Classical Chart after it was released last month.
The Disklavier has earned a formidable reputation around the world, largely for its reliability, great sound quality and its ability to reproduce accurate, note-for-note performances—ideal in the sharing of lesson and performance content.
Yamaha also recently launched its Disklavier Education Network (DEN) website (yamahaden.com), a major initiative that provides crucial tools for schools and educators who integrate the company's Disklavier reproducing piano and DisklavierTV into their curriculum. The company also introduced its Disklavier College Audition program in January, through which Yamaha, in partnership with community music schools, colleges, and dealers, offers college-bound pianists the opportunity to record video-synchronized auditions on DisklavierPRO pianos that are shared with college admissions and scholarship committees over the Internet.
"In terms of education-based opportunities, this is just the tip of the iceberg, and we're excited to be exploring more and more ways to use the Disklavier as a unique and helpful tool in music education at every level," Straiton said.
-END-
About Yamaha
Yamaha Corporation of America (YCA) is one of the largest subsidiaries of Yamaha Corporation, Japan and offers a full line of award-winning musical instruments, sound reinforcement and home entertainment products to the U.S. market. Products include: Yamaha acoustic, digital and hybrid pianos, portable keyboards, guitars, acoustic and electronic drums, band and orchestral instruments, marching percussion products, synthesizers, professional digital and analog audio equipment, Steinberg recording products and Nexo commercial audio products, as well as AV receivers, amplifiers, Blu-ray/CD players, iPod docking systems, home-theater-in-a-box systems and its exclusive line of Digital Sound Projectors. YCA markets innovative, finely crafted technology and entertainment products and musical instruments targeted to the hobbyist, education, worship, professional music, installation and consumer markets.