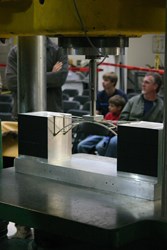 Denver (PRWEB) February 11, 2014
Encouraging high school students to study science, technology, engineering and mathematics is crucial to furthering Colorado's education system. At the annual Colorado High School Bridge Building Competition, students from across the state will gather to test their engineering expertise on homemade, small-scale bridges and compete for a college scholarship at the national competition.
Students will test the strength of their model bridge designs starting at 8 a.m. on Saturday, Feb. 22 at the Bureau of Reclamation's Materials, Engineering and Research Laboratory in Denver. These bridges, made out of basswood, glue and other basic materials, are judged on the amount of weight they can hold versus their size. Top winners in the competition qualify for prizes and the opportunity to advance to the international contest in Chicago.
In addition to the competition, attendees and their families will explore Reclamation's laboratories and facilities with professional engineers, getting a chance to see research and science in action. Students will be introduced to the humidity room, where working models of structures and dam construction materials are made, and will witness a 2,000-pound concrete cylinder crushed by a machine capable of 5 million pounds of pressure. Reclamation's science and engineering expertise is known throughout the world, and this event allows young professionals the unique career opportunity to personally interact with Reclamation's technical specialists.
To attend this annual event, please enter the Denver Federal Center through Gate 1 on Kipling Ave. Signs will direct visitors to Building 56, where the competition is held.
The competition is a collaboration between the Bureau of Reclamation, the Professional Engineers of Colorado and the American Council of Engineering Companies of Colorado.