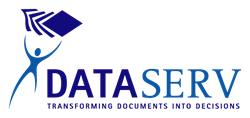 St. Louis, MO (PRWEB) February 12, 2014
DataServ, the global SaaS provider of document and process automation solutions, is broadening their support staff with the addition of three experienced professionals to the IT and Marketing teams.
Lawrence Casey has been added to the DataServ IT Operations and Infrastructure teams as an IT manager. He brings more than 25 years of diverse IT experience to DataServ through previous stints at Ralcorp Holdings and Boeing. Casey provides a broad understanding of software development, architecture, security, operations and IT management. He earned a master's degree in engineering from the University of Illinois.
Mike Rainey has been named a Content Curator in the marketing department, and he will assist with increasing and extending the value of DataServ's educational content to accounting, financial, and human resources professionals worldwide. In addition, he will support the company's social media and trade association content development and distribution, as well as help with media outreach. Rainey has an extensive journalism background that includes a stint as a sportswriter at the St. Louis Post-Dispatch and as the managing editor of a diversity and employment magazine. He holds a bachelor's degree in communications from the University of Missouri-St. Louis.
Rainey is accompanied on the Marketing team by Greg Dietrich, who joins DataServ as a Marketing Manager – a role in which he is responsible for implementing strategic marketing plans that effectively position DataServ in the market through email campaigns, search optimization, PPC, sales support initiatives and trade association sponsorships. Dietrich's past experience includes marketing strategy, lead generation initiatives, sales enablement, branding, digital projects, educational program development and event marketing. He earned a bachelor's degree in marketing from Missouri State University and an MBA from Saint Louis University.
About DataServ
St. Louis-based DataServ is a global SaaS provider of document and process workflow automation solutions for the financial operations and human resources functions. A Cloud Computing pioneer, they developed the first commercially viable Enterprise Content Management (ECM) SaaS in the world. Serving organizations worldwide since 1994, DataServ streamlines and lowers costs within Accounts Payable via their Purchase to Pay (P2P) solution set (including Expense Report Automation and Purchase Order Requisition Automation), Accounts Receivable with Quote to Cash (Q2C), and Human Resources through Hire to Retire (H2R) by capturing documents and data and automating business processes.