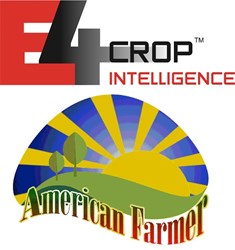 (PRWEB) February 14, 2014
E4 Crop Intelligence announced today that they will be featured in an upcoming episode of American Farmer, airing later this year on RFD-TV.
E4 Crop Intelligence represents the industry's first integrated precision ag support platform. American Farmer will explore how this single-system solution helps growers with their entire precision ag program. Viewers will learn about services and technology at E4 Crop Intelligence, both of which are integrated into one cohesive platform.
This episode will go behind the scenes to look at the ability E4 Crop Intelligence has to transform raw data into actionable crop intelligence – the skill to recognize, predict and address opportunities and issues and create data-generated maps, monitor-ready variable rate instructions, crop planning and analytics, seed positioning and more.
"I could see that connectivity between data, equipment and various partners involved in agriculture was becoming more important," said Greg Reisz, President and Owner of E4 Crop Intelligence. "So, we tried to address those ideas. Empowering growers to make fact-based decisions from the data at hand is really what we are all about."
"E4 Crop Intelligence is truly revolutionizing the industry." said Charlie Cowan, producer for American Farmer. "E4 provides impartial results to growers, and we are excited to share this educational information with our viewers."
About E4 Crop Intelligence:
Precision Ag isn't one thing, its many things, and not every operation has the same requirements. Far from a "one size fits all" system, E4 Crop Intelligence is built for flexibility from the ground up. E4 Crop Intelligence is a full-service precision ag firm. E4 sells and supports precision ag hardware, as well as licensing the E4 Crop Intelligence software platform to its dealer network and growers.
For more information, visit: http://www.e4cropintelligence.com or call 712-647-2666.
About American Farmer:
American Farmer is a breakthrough program on a mission to showcase the latest advancements in agriculture and farming. From seed to harvest, livestock and more, our producers have traveled the country covering the people, places and issues impacting all areas of farm country.
American Farmer airs Tuesdays at 8:30am ET on RFD-TV as well as Tuesdays at 12:30pm and Saturdays at 1:30pm ET on FamilyNet.
For more information visit: http://www.AmericanFarmerTV.com or call (866) 496-4065.
Media Contact:
Charlie Cowan, Senior Producer/American Farmer
(866) 496-4065 x 875
Charlie(at)AmericanFarmerTV(dot)com