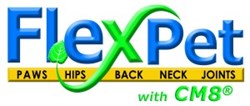 We are very excited about sponsoring Beau this year, stated Tamer Elsafy, CEO and founder of Flexcin "We saw this as a unique opportunity to sponsor a unique dog which showcases what our brand is all about… strength and flexibility."
Ft. Myers/Naples, Florida, February 10, 2014 (PRWEB) February 12, 2014
Flexcin International, Inc. is proud to announce that they will be sponsoring GCH Spring Valley's-Zambezi's BEAUREGARD OF MAHANA for 2014. Rhodesian Ridgeback liver noses are not only hard to find, but Beau is a light wheaten who is big, distinct, and strong. His pedigree is one of the best: his sire is MBIS MBISS Spring Valley's Great Gatsby; arguably is the most notable Ridgeback in the history of the breed in the USA, and his dam is Am GCH/Can CH Springs Valley's Shumba Hadzi, SC, CGC, RN, the #1 bitch in 2010.
Beau was sensational in 2013 as he received his championship in just six weeks of starting his show career and before he turned 9 months old. He then kept on winning: Select, Best of Opposite, and Best of Breed, knocking out specials and dogs much more mature than him. This past fall he earned his Grand Championship just shy of 13 months, which made him one of the youngest in the history of the breed.
Beau is representative of a large breed, who is active, growing, and works out regularly on a dog trotter for 25 minutes. Since he is not mature until he is 2 years old and is extremely active being a show dog, it is very important for him to be supported in his growth with a product like FlexPet which maintains joint health and contains a combination of key ingredients including CM8®.
Beau and FlexPet are not stopping there! His show career will be continuing with an appearance at the Westminster Kennel Club Dog Show in New York on February 10 & 11th, 2014 with handler Jack Secrest Jr., a top winning AKC Professional Handler in the USA. Beau will be Jack's "special" throughout 2014.
About Flexcin International
Flexcin International, Inc. is a manufacturer and marketer of leading all-natural supplements made in the USA that promote optimal joint health. Along with its FlexPet line of pet joint supplements, Flexcin products are the only degenerative joint relief supplements with the CM8® ingredient to stimulate joint fluid lubrication, strengthen cartilage and increase overall mobility.
About Mahana Ridgebacks
Based outside of Nelson, New Zealand, Mahana Ridgebacks are owned by Chandler Elizabeth Parker and Glenn Schaeffer. The dogs come from Marie Cotton's Spring Valley Rhodesian Ridgebacks, one of the most important breeders of Rhodesian Ridgebacks in the world. Her Ridgebacks are consistently at the top of the show circuit every year. Both Beau and Lona represent the best of Spring Valley with fun, loving, happy, and sweet temperaments, as well as substance, beauty, and conformation. They are willing to please without losing their own desires to play practical jokes and keep you on your toes.