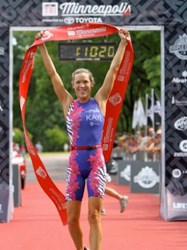 St. Louis, MO (PRWEB) February 12, 2014
The USA Synchronized Swimming team will be stand outs in the 2016 Olympic Games for many reasons. Besides their hard driving training, their new swim suits will be coming from St. Louis small business and 2013 Arch Grants Recipient Triflare, which produces high-performance, female sportswear…with flare.
Andrea Robertson, Founder and CEO of Triflare, initially conceived of the brand and product after being tired of the performance suits that were available to women. Andrea raced on the triathlon race circuit for 15 years and grew tired of the limited selection of (usually black) suits.
"Kim Mclean (Triflare creative director/lead designer) and I have a very systematic approach to our designs. We love to make statement pieces for women that excite women who are getting ready to race and train. Looking strong and bold can increase passion for the sport," says Robertson.
But, the suits are more than just for looks.
After receiving an Arch Grant in mid-2013, Triflare has slowly gained an inspiring reputation. In June 2013, Andrea recruited Alicia Kaye as the Triflare pro. While wearing the new suits, Alicia has won The Lifetime Pro Triathlon Series, Lifetime Triple Crown Series, and was listed in the Top Seven Triathletes of 2013 by First off the Bike. Alicia was then named American Female Triathlete of the year by Triathlete Magazine.
"Triflare is more than a brand. The company is changing the way females see themselves on race day and as athletes," says Alicia Kaye
The contract with the USA Synchronized Swimming team was finalized in early February. Triflare will be producing the suits for the team through 2017.
"USA Synchro is excited about the establishment of the sponsorship with Triflare," COO and Transition Director of USA Synchro Kevin Warner says, "We feel that the uniqueness of the Triflare competitive synchronized swimming suits will be a significant step to our team's success in the future. The possibilities that we now possess make this an extremely valuable endeavor. We are happy to have Triflare part of our team."
About Triflare
Triflare is a triathlon sportswear brand designed with every level of competitor in mind. Each piece of clothing in the Triflare collection was designed with two thoughts in mind: femininity and power. Designed with the help of a successful and established fashion designer, each piece is flattering on a woman's body and shows those muscled curves that have come from hours of training. These trisuits are not only unique, but they are designed to be comfortable and resilient, making every move in a race efficient. The prints embody the bold goals of a triathlete and capture the pursuit of competition.