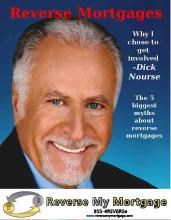 Salt Lake CIty, Utah (PRWEB) February 12, 2014
Reverse mortgages are perhaps one of the most successful yet simplest ways to acquire supplemental income for retirement. RMM has been financing these mortgages as well as Utah HECM loans for a significant amount of time and has become one of the front-runners among HECM loan providers. Furthermore, they are extremely knowledgeable about their field and all aspects of the financial plane and have consequently developed new videos that clearly demonstrate the principles and guidelines of their industry. These videos will prove instrumental to those who prefer visual instruction and are outlined as clearly as possible so to make the instruction as absorbable as possible. The videos were created with RMM clients in mind, specifically the more elderly clients or those seeking reverse mortgages as a source of supplemental income.
Elderly patients and those seeking supplemental income for retirement will no doubt greatly benefit from the visualization that the RMM instrumental videos provide. They are a wonderful educational resource to have and will prove key in the decision making process regarding any and all financial decisions made through RMM or through another financial firm. This kind of educational resource will shine light on the often confusing financial processes and will educate and empower clients from every walk of life on their fiscal options. In addition, the videos can also be a source of encouragement, since they show the benefits of acquiring Colorado reverse mortgages as well as Utah HECM loans.
RMM is a company that firmly believes in the education and empowerment of its clients in their own financial lives. By providing them with a wide plethora of educational resources, such as consultations and videos about reverse mortgages and HECM loans, this well-known loan financer instills the confidence and faith in their clients necessary to have a successful financial future. These resources are available to all clients, both new and returning, and fully endorsed by RMM as a viable form of guidance. Reverse mortgages, as demonstrated in the video, just might be the best financial option for one's family. Watch the video and find out! For more information, visit their website at http://www.mortgagereversecalculator.com/.