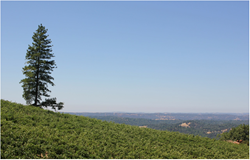 People are starting to appreciate wines with a sense of place, and we offer that here.
Placerville, CA (PRWEB) February 14, 2014
The El Dorado wine region, nestled in the Sierra foothills between Sacramento and Lake Tahoe, has peaked attention from critics and consumers around California and beyond. With over 150 years of history steeped in gold and agriculture, the region is poised for its newfound resurgence in viticulture. Today, the county has more than 2,000 acres of vines at the highest elevations across California and is home to over 70 wineries.
Two common themes run true in what sets El Dorado apart: the unique soils from the region and the elevation range of the vineyards, which range between 900 and 3,000 feet. With diverse soils ranging from granite to volcanic, the region is gaining recognition for its ability to grow quality grapes that exhibit a sense of place. Planted grapes range from cabernet sauvignon to zinfandel to petite sirah and Rhône varietals.
The mid-90s brought new faces to El Dorado. In 1995, Jonathan Lachs and his wife Susan Marks, armed with Enology degrees from U.C. Davis, purchased property for their own brand, Cedarville Vineyard. They specifically sought out the up-and-coming region, where land prices were a fraction of those in Napa and Sonoma. They have seen the region's stock quietly ramp for 20 years; speaking of the recent attention, Lachs points to critical mass as the main indicator of success. "As an appellation, we now have a better set of wines and we have more of them." Lachs noted, "People are starting to appreciate wines with a sense of place, and we offer that here."
El Dorado's History Provides Foundation for Today's Success:
With its long, rich history, El Dorado has seen its share of ups and downs. With the rush that began in 1848 when gold was discovered at Sutter's Mill, the wine industry was instantly jump-started. Within a few years, several vineyards popped up around the county as people came to the region. By the turn of the century, there were nearly 2,000 acres of grapes planted, making it the third most in California. Suffering a fate like most wine regions, the vineyards declined with prohibition and the Great Depression. Vineyards later become fruit orchards with apples and pears – a local industry that is still enjoying success today.
Fast forward to the 1970s as current day pioneers of the El Dorado wine industry paved the way for the success today. People like Greg and Sue Boeger (Boeger Winery), Dick and Leslie Bush (Madroña Vineyards) and John and Barbara MacCready (Sierra Vista Winery) were instrumental in finding vineyard sites and experimenting with different varieties. Their foresight to plant grapes and invest in the foothill region led the way for a new generation of winemakers who've invigorated the area.
Planting their family's first vineyard in 1973, Paul Bush recalls, "Nobody had ever tried to plant commercial vineyards at 3,000 ft. elevation." His parents Dick and Leslie Bush had researched the area extensively using soil samples and indicator plants. Today, with an annual production of over 10,000 cases and a bustling tasting room, Madroña Vineyards has achieved the success they envisioned forty years ago.
More Wineries, Better Quality Wine; A Region is Defined:
Reaching critical mass defines a wine region. El Dorado's rich history combined with newer brand investment and now international winemakers builds the region's acclaim, draws more attention to the tasting rooms and creates greater recognition for the area rooted in California's Gold Rush history.
"The fact that more wineries are being recognized adds credibility to the region," said Teena Hildebrand, President of the El Dorado Winery Association and co-owner of Narrow Gate Vineyards. "When people see a number of wineries are all making solid wines from one appellation, that gets people excited and creates buzz."
Over the past several years, El Dorado wines have reached Top 100 lists and regularly score in the 90s. Wine enthusiasts are invited to discover these wines during the region's most popular Passport Weekends, April 5-6 and April 12-13.
El Dorado has the eye of winemakers across the state now seeking El Dorado fruit. Bay Area producers Tracey and Jared Brandt have purchased grapes from the region for years for their Donkey & Goat brand. Their high-scoring El Dorado wines are consistently among their most popular, with both consumers and critics. Winemaker Hardy Wallace sources fruit for his Dirty & Rowdy brand from several vineyards in El Dorado. It was the soil, elevation and quality of the grapes that drew him, "The soils there are amazing" he stated. Like the Brandt's, Wallace's wines have garnered attention of national media. Wallace and his wines were listed as "ones to watch for" in the New York Times and the San Francisco Chronicle this past year.
Among the more recent investments to El Dorado is Skinner Vineyards & Winery. Mike and Carey Skinner came the area in 2006, purchasing land for a vineyard and winery. They were drawn to the region after learning about their distant family's winery, which opened in 1861 during bustling years of the gold rush. Crafted by winemaker Chris Pittenger, the Skinner wines have consistently found critical and consumer success. They saw the rich opportunity in the region and the chance to be a part of something special.
Terrie Prod'hon, Public Relations and Marketing Chair of the El Dorado Winery Association and co-owner of Mount Aukum Winery is optimistic on the future of El Dorado, "We are positioned for success for years to come." The location sets the region apart. In addition to wine, there is a diversified agriculture scene and unique tourist draw complementing the wine community. The region celebrates its place in American history. Prod'hon noted, "We have a bright future ahead."
For more information about El Dorado and Passport Weekend, visit http://www.eldoradowines.org.
El Dorado Winery Association
PO Box 1614
Placerville, CA 95667
EDWA Offices (800) 306-3956
MEDIA CONTACT: Solterra Strategies, Joel Peterson, joel(at)solterrastrategies(dot)com