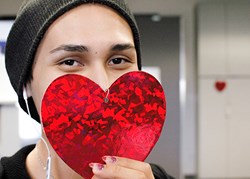 No need for fancy gifts, I'd prefer just simple, quality time.
Los Angeles, CA (PRWEB) February 13, 2014
At the downtown Los Angeles campus of FIDM/Fashion Institute of Design & Merchandising, students are preparing for midterms while enjoying the sunny Southern California weather. A few of these hard-working fashion students took a moment from their busy schedules to share their plans and wishes for Valentine's Day!
Sweets are a hallmark of this romantic holiday, but FIDM's ever creative fashion students aren't expecting your average box of chocolates. "I love the idea of a sweet Valentine. A fun date for me this weekend involved waffles and books," says Chigozrir Ikeme, a Product Development student, "I plan to take a walk down 6th and Spring to Syrup Desserts and enjoy a tri-berry waffle made with brown sugar before heading over to the Last Booktore. It's perfect."
Since Valentine's Day falls on a Friday this year, many students have classes or work. Ashley Wiley, a Beauty Industry Merchandising and Marketing student is spending her Friday working at Sephora, but that isn't stopping her from enjoying the holiday or making sure others enjoy it too. On the big day, she wants to go beyond her already perfect customer service skills and make anyone who walks into the store feel extra beautiful and pampered whether they have a Valentine or not. She says, "I want this holiday to be about sharing beauty!"
FIDM Students Anja Mogensen, Visual Communications, and Ully Ferrer, Product Development, would prefer a simple day with their Valentine, as simple (yet adventurous) as enjoying a picnic in the park or walking down the Santa Monica Pier enjoying the crisp air and their toes in the sand. Ully would love making the entire day just one big adventure. He says, "I'd make the whole day fun. I'd start with a morning hike, go to our favorite restaurant for brunch, walk down the beach, and then when we get back home, we could start baking cookies together and enjoy them over cuddling on the couch watching movies. That would just be the best day, simply spending the day together. No need for fancy gifts, I'd prefer just simple, quality time."
With four dynamic California campuses, FIDM/Fashion Institute of Design & Merchandising is the premier west coast fashion design college, educating for careers in fashion, graphic design, interior design, and entertainment. FIDM's graduates include renowned fashion designers like Monique Lhuillier, Emmy® and Academy Award® award-winning costume designers, top fashion industry executives, and entrepreneurs.