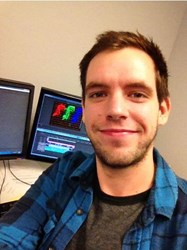 "We were completely bowled over by the edgy humor that conveyed how it's not the end of the world if you lose a pair of Zennis to a kitchen appliance, since Zenni's eyewear is so inexpensive. And we all loved that mischievous baby."
Novato, California (PRWEB) February 12, 2014
Zenni Optical, the world's leading online optical retailer providing the most inexpensive, high-quality eyeglasses available anywhere, has announced the winners of the first annual Zenni Optical Video Contest, all of which can be seen on Zenni Optical's YouTube page.
The Grand Prize winners, splitting $20,000, are San Francisco, Calif., filmmakers Jesse Eisenhardt and Eric Wong. Their video of a baby stealing and abusing his father's glasses won over the contest judges with its implied message that Zenni Optical eyeglasses are so inexpensive you can afford to have many alternative pairs in case one gets lost or destroyed.
"Jesse and Eric really nailed the message we were looking for," Zenni Optical Marketing Manager David Varnai said. "We were completely bowled over by the edgy humor that conveyed how it's not the end of the world if you lose a pair of Zennis to a kitchen appliance, since Zenni's eyewear is so inexpensive. And we all loved that mischievous baby."
Steve Flavin, also of San Francisco, nabbed the $10,000 First Prize with a video that showed how easy and fun it is to use the Zenni Optical website, which greatly impressed the contest judges.
"We loved how Steve displayed so many of the best features of the website," Varnai said. "One of the great things about Steve's video is that it shows people who may still be reluctant to order their glasses online just how easy it is. We want everyone to know that they can take advantage of the phenomenal savings we offer, and Steve's video does the job perfectly."
The two Second Place winners, of $5,000 each, are Michael Binko of Coral Gables, Fla., and Michael Darling of Valley Village, Calif. Binko's rap video was utterly compelling to the judges, who loved its outstanding production values and stickiness so much they couldn't stop playing it and singing and dancing along. Darling knocked out the judges with a video he wrote and directed in which his longtime friend Jay Preston played a kind of latter-day Mr. Magoo, whose myopia gets him in a lot of slapstick trouble.
The five Third Place winners, of $1,000 each, are Kimberley Basnight of Durham, N.C.; the team of Robb Preis of Ellicott City, Md., and Mark Wieland of Catonsville, Md.; Andie Bottrell of Springfield, Mo.; Jim Truong of City of Industry, Calif.; and Andrew Campbell of North Charleston, S.C.
Basnight created an elegant, sexy video starring local model Jena Frumes that was inspired by Zenni's affordable variety of styles. Preis and Wieland co-wrote and directed a video that made the judges laugh to watch Wieland construct his own pair of not-ready-for-prime-time – or anytime – glasses. Bottrell wrote, directed, edited, and starred in a delightfully quirky video in which she frolics in the snow in her glasses, which she also wears to sleep. Truong and Campbell each scored with warmly amusing animated videos.
Along with the nine winning videos, earning for their creators a combined total of $45,000 in cash prizes, 29 of the 89 submitted videos were deemed excellent enough to receive honorable mentions from the judges. The winners are all posted on Zenni's YouTube page.
Along with a 28-second length requirement, the contest had only one other stipulation: the video had to feature one or more pairs of eyeglasses purchased from Zenni.
"We'd hoped we would get some adventurously creative videos," Varnai said. "But what we received exceeded our expectations. That's fitting, because it's what most of our customers say when they get their glasses."
About Zenni:
Zenni Optical launched in 2003 in the San Francisco Bay Area – a natural fit in the home of forward-thinking, tech-savvy companies. The mission was clear: give people glasses they can actually afford but still make them look like a million bucks. It started small, a little company with big ideas, but it quickly grew into a phenomenon. Fashionistas, moms on-the-go, discerning customers; everyone found that they could get the selection they deserved at prices they could afford with Zenni Optical.
http://www.ZenniOptical.com