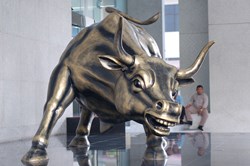 The Rob Hoffman Trader Workshop will explore the set-ups that are working right not in stocks, futures, options and ETFs.
New York, NY (PRWEB) February 11, 2014
Two-time International Trading Champion Rob Hoffman will present his Rob Hoffman Trader Workshop on the topic "My Favorite Trading Set-Ups That Are Working Right Now" at the International Traders Expo in New York on Feb. 17.
In the workshop, Rob will share his favorite trading set-ups that are currently working for futures, stocks, options and ETFs. Workshop attendees will be able to ask him questions and watch him share his set-ups live. The workshop will be held at 10:30 a.m.
Rob Hoffman Trader Workshop is part of three-day event
The three-day International Traders Expo event will feature a wide list of guest speakers, activities, workshops and events. This event is held to assist traders at all levels in learning to trade effectively for greater profits. The International Traders Expo will be held at the Marriott Marquis Times Square, 1565 Broadway, in New York.
The Expo's main event will be the Live Trading Challenge on Tuesday, Feb. 18, at 9:45 a.m. Rob Hoffman will be competing in the Live Trading Challenge.
For more information on the International Traders Expo, visit http://www.moneyshow.com/tradeshow/new_york/traders_expo/.
About Rob Hoffman
Rob Hoffman is an internationally recognized speaker, teacher and trader. He is a two-time International Trading Champion and the founder of Become a Better Trader, Inc. Become a Better Trader offers courses and other educational resources that help traders of all skill levels trade like the professionals. For more information on Rob Hoffman or Become a Better Trader, visit http://www.BecomeABetterTrader.com.