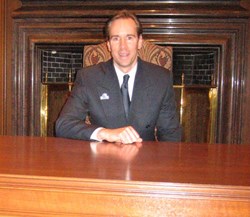 Doug's experience in litigation and risk management is sure to be a valuable asset to our company. - Dan Smith, President and Founder of Fora Financial
New York, NY (PRWEB) February 12, 2014
Fora Financial announces that it has appointed Douglas Greenberg as General Counsel. In this executive role, Doug will serve as legal counsel for the Company and also provide strategic leadership of the Company's portfolio management operation. Doug has more than 20 years of experience in risk management, compliance and portfolio administration.
He will lead Fora Financial's legal functions, providing oversight of all legal and litigation matters, corporate governance, compliance and corporate responsibility. He will also help to develop and structure financing products to attract and retain customers across various industries.
Doug said, "I wanted to join the Fora Financial team because it's a growing company with an outstanding reputation in the industry. Fora Financial is the perfect fit for my skill set, and I am confident that my experience will contribute greatly to helping the Company grow."
Dan Smith, President and Founder of Fora Financial said, "Doug brings with him vast experience spanning over 20 years in the industry, which will be a great asset for us. His expertise in overseeing strategic business transactions and leading compliance programs will bring meaningful benefits to Fora Financial as we continue to enhance our products, expand our capabilities and grow our business globally. Doug's experience in litigation and risk management is sure to be a valuable asset to our company."
For more information about Fora Financial, visit http://www.forafinancial.com.
About Fora Financial
Fora Financial offers flexible, working capital solutions to small businesses in need of financing to sustain or grow their enterprise. The Manhattan-based company places a high value on trust and transparency and provides businesses with quick, customized financial solutions utilizing its state-of-the-art technology platforms. Founded in June 2008, Fora Financial has provided more than $170 million to over 4,000 customers.