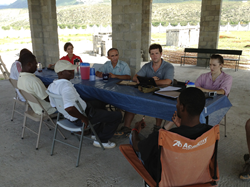 I want to help others grow food for themselves and their community.
Nashville, TN (PRWEB) February 26, 2014
In September of 2013, faculty from Texas A&M's College of Agriculture and Life Sciences traveled to LiveBeyond in Thomazeau, Haiti to explore global research and collaboration opportunities for their graduate students. LiveBeyond's David Stallings Vanderpool,a graduate from TAMU, is working to implement a demonstration farm at the Thomazeau base that will serve to teach local farmers better farming methods, while supplying the community with sustainable crops and healthy livestock. A union between the two organizations seems to be win-win. Not only will this partnership provide a unique experience and education to the participating students from the College of Agriculture and Life Sciences, it will also help LiveBeyond provide life giving nutrition to starving and marginalized Haitians enrolled in their Community Outreach Program.
LiveBeyond has a 64-acre base in Thomazeau, Haiti situated at the base of a mountain and the shoreline of the country's largest lake, Lake Azuei. Today, LiveBeyond's demonstration farm is in full swing. Among the various crops being tested in the Thomazeau region are tomatoes, peppers, onions, beans cucumbers, carrots, kale, spinach and Swiss chard. During the next few months, TAMU interns Audie Cherry and Paige Graves will analyze soil, plant seeds and measure crop yield so they may determine which varieties will produce year round. Discovering which fruits and vegetables can endure year round is key to sustainability for Haitian farmers.
Audie Cherry is currently working on his Master's degree in Agricultural Development. Cherry has never been to Haiti, but is eager to observe and assess the needs of Haitian farmers through qualitative research. He looks forward to applying his insight and knowledge to the farm's goat and chicken projects. When asked what he hopes to experience while working at LiveBeyond, Cherry said he is "excited to see the hope we can bring to the people of Haiti through their eyes."
Paige Graves is currently working on her Master's degree in Horticulture. While in Haiti, Graves' primary focus will be to assist the demonstration farm in determining the specific plant varieties that will thrive in the Thomazeau region. She is thrilled to help lay the groundwork for the farm and the work of future Texas A&M interns. When asked if she was excited about her trip to LiveBeyond, Graves exclaimed, "I already feel like I have found a new passion. I want to help others grow food for themselves and their community, whether it is in the U.S. or somewhere else."
Texas A&M is one of the country's largest schools of Agriculture. They have a college chapter that meets every month, "Live Beyond: Texas A&M" that was founded in 2011 by John Mark Vanderpool. Membership is open to all TAMU students and is open year round. Chapter members focus on sending aid & supplies to Thomazeau, while generating awareness and support throughout the TAMU community.
LiveBeyond is a 501 (c)(3) humanitarian organization that has been working in Haiti since the 2010 earthquake. In addition to the demonstration farm and community outreach programs, LiveBeyond provides medical care, nutritional support, maternal health care, clean water, economic development, educational development and care for the vulnerable within the Thomazeau region while sharing the love of Christ. Their mission is to LiveBeyond…ourselves, our culture, our borders and this life so that others can LiveBeyond… disease, hunger, poverty & despair.