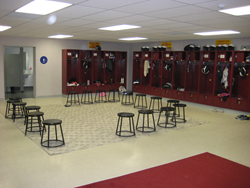 Wouldn't mind if we keep them permanently. These temporary facilities are much nicer than what I've been using the last 25 years.
(PRWEB) February 13, 2014
With real estate at a premium, most Southern California Universities do not have the luxury of expanding. So renovating existing facilities is sometimes the best option. But, displacement of staff and students and disruptions to daily operations becomes the challenge. Anyone with experience will tell you that success along this critical path would include nearby facilities that would meet program needs during a construction process sometimes lasting a year or more. However, often those nearby facilities are not available. So, temporary additional buildings must be found. That is when schools turn to modular building to meet their space needs. In addition to the temporary need, fast mobilization and demobilization is paramount in minimizing disruption to the campus.
"Modulars from Design Space Modular Buildings would work out perfectly," was the recommendation of the Project Manager from the award winning architectural design and project management firm chosen by a major Southern California university to help them plan for a new state of the art fitness and events center. The new Pavilion would house their athletic center, intercollegiate, intramural, and physical education programs. Construction duration is estimated at 2 years.
The temporary space during construction would need to include team rooms with lockers, white boards, a shower facility and bathrooms. Also needed were visiting team locker rooms with restrooms and showers. Additional space would be required for the equipment and a laundry room, and a large open space for physical therapy and training offices.
The University agreed with the Project Manager based on a recent successful project and Design Space Modular Buildings was once again selected to provide the space. Four new 48'x60' modulars were built and customized to meet the program requirements. The only available location for the modulars was on the existing tennis courts right in the middle of the campus. Careful planning was necessary to deliver the (16) 12'x60' modular sections. The only route was to bring them across the well-manicured baseball field. To avoid any damage to the field, plywood was laid out along the delivery path to spread the load and leave the field without a mark. The modulars were delivered and installed within 45 days from the date of order. Connecting decks and skirting were installed and utilities connected.
Construction on the new Pavilion is underway. The equipment manager is thrilled with the new modulars and says he "wouldn't mind if we keep them permanently. These temporary facilities are much nicer than what I've been using the last 25 years."
For more information on this project or Design Space Modular Buildings, you call 866-899-7777, or visit their website at http://www.DesignSpaceModular.com.