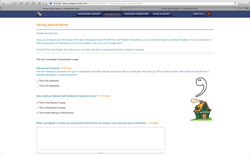 Teachers with 180 students can easily spend 1½ days/year on test busywork. Online Test lets them get back to teaching.
Palo Alto, CA (PRWEB) February 12, 2014
We test to assess whether students can use the information they've gathered in a course. But it's tedious and labor-intensive for teachers, who must physically produce the tests, handle the papers repeatedly, and often spend evenings marking them and entering the results into school grading systems.
CollegeOnTrack now eliminates the tedium with Online Tests, a module within the Homework app included with every school subscription.
CollegeOnTrack teachers are used to using the Homework app to develop, distribute, and grade homework assignments which their students complete online. The Online Test module is the next logical step.
Using Online Test, teachers construct exams from elements called "widgets", each representing a single question. They drag the widgets into place on the test page, then customize each to define its question. They can mix widgets for essay and multiple choice questions, including questions which require multiple correct answers. They can add graphics, such as charts or photos, assign point values for each question, and specify which answer(s) are correct in multiple choice questions.
Teachers publish their exams to a library, where the tests become available to be assigned to students and reused for subsequent classes. They assign a test by selecting a group of people (Period 3 English students, for example), entering a due date, and clicking Assign. Immediately, the test shows up in students' Homework apps, and its deadline shows on their calendars.
Students take their tests online, either in class or outside (for take home tests). They save their work as they go, submitting results when they're done. As they submit, CollegeOnTrack does a preliminary grading of each test using the defined correct answers and point values. Then teachers review the tests, overriding CollegeOnTrack's assessment where necessary, and grading essay answers. As in other parts of this system, teachers can highlight text in essay answers and provide detailed feedback if desired. When done grading, they submit the results.
As teachers enter grades, students see the results immediately. Test grades flow automatically to CollegeOnTrack's Gradebook app, and are evaluated by the Student Dashboard/RTI module, which flags students trending toward failure.
Online Test boosts teacher productivity and job satisfaction. Marketing V.P. Phil Roybal says, 'Teachers with 180 students can easily spend 1½ days/year on test busywork. Online Test lets them get back to teaching."
Testing still takes teachers' time, but Online Test eliminates filing and retrieving, printing, transferring grades to the school system, flagging problems for parent and counselor followup, and physically handling thousands of documents each year. Teachers have more time to design and deliver great learning experiences, and guide their students to success.
About CollegeOnTrack
CollegeOnTrack is a web-based system that enriches the learning experience in middle and high school as it prepares students for college and successful careers. It offers a combination of rich digital portfolios, collaboration support, and task management that helps students build a mindset of success. Administrative modules help educators keep students in school and on track for graduation and college applications.
For more information about this topic, or to schedule an interview, contact Philip Roybal at (408) 782-4244, or phil(at)collegeontrack(dot)com.
CollegeOnTrack is a trademark of ServiceInfinity Inc.