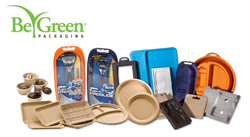 Santa Barbara, CA (PRWEB) February 27, 2014
Be Green Packaging is pleased to announce that a majority stake in the company has been acquired by The Riverside Company, a global private equity firm focused on acquiring growing businesses valued at up to $250 million.
The transaction is intended to provide Be Green Packaging with the human resources and capital needed to commence manufacturing from the company's South Carolina facility. Be Green Packaging will also be simultaneously expanding its existing manufacturing capacity in China to meet the rapidly growing global market demand for sustainable packaging.
Be Green Packaging co-founders Ron Blitzer and Robert Richman are confident that the acquisition will allow the company to execute its long term business plan alongside partners that understand and appreciate its triple bottom line business model. Be Green Packaging will continue to focus on maintaining its leadership position within the sustainable packaging marketplace. Both co-founders will remain heavily invested in Be Green Packaging and the current management team will continue to operate the company under the guidance of The Riverside Company.
Be Green Packaging is best known for its iconic Cradle to CradleCM certified food service trays and containers, which can be found at Whole Foods Markets across the U.S., Canada and UK. Over the past few years the company has expanded its roster of customers to include some of the world's largest consumer product companies including Proctor & Gamble, Gillette and Google.
Be Green Packaging's products are made from a proprietary blend of rapidly renewable plant fibers such as bamboo, bulrush, wheat straw and bagasse, all of which have been certified compostable and recyclable.
"Be Green Packaging is getting the financial muscle and management guidance of an experienced private equity firm that gets what we are doing," said Ron Blitzer, co-CEO and co-founder of Be Green Packaging. "The Riverside Company has a proven track record of growing innovative companies to their full potential and we are excited to have them on board."
"Riverside will help us accelerate growth by investing heavily in U.S. manufacturing and improving sales, customer service, innovation and marketing," said Robert Richman, co-CEO and co-founder. "Through substantial investment in R&D, we will be better positioned to serve both existing and new customers. Riverside is a perfect fit for us as a partner and is fully aligned with our mission and values."
Be Green Packaging
Be Green Packaging LLC manufactures and distributes Cradle to Cradle CertifiedCM, tree-free, and biodegradable packaging for the food service and consumer markets. The company designs and engineers products made from annually renewable plant fibers that are safe for people and healthy for the planet. Be Green Packaging is currently in the process of opening the first plant fiber manufacturing facility in the U.S. in Jasper County, South Carolina. The plant will be operated according to Cradle to CradleCM principles. Learn more: Begreenpackaging.com
The Riverside Company
The Riverside Company is a global private equity firm focused on acquiring growing businesses valued at up to $250 million (€200 million in Europe). Since its founding in 1988, Riverside has invested in more than 330 transactions. The firm's international portfolio includes more than 70 companies. Learn more: Riversidecompany.com