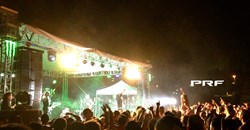 I see this changing lives. Inspiring people to live the life they've always dreamed of.
Honolulu, HI (PRWEB) February 19, 2014
The Proof Of Purpose apparel company is focused on advocating the power and significance of men and women everywhere with intimate relevance and captivating design. As an authentic lifestyle brand, Proof embodies what is said to not only be the name of the business, but the name of the game.
"Life is about finding purpose for the unique individual you are," said Jantzen Weight, founder and CEO of Proof. "Owning that purpose, and seeing it through."
Jantzen Weight, a young mind and entrepreneur, is looking for help in funding something he sees the world greatly benefiting from.
"I see this going far beyond anything ever done in the industry," claims Weight. "I see this changing lives, inspiring people to live the life they've always dreamed of. Ultimately creating a worldwide evolution; a peaceful, and progressive development in our society."
The company is now facing a pivotal point in its progression. Proof is attempting to raise necessary startup funds through a crowdfunding campaign, where it will receive monies raised only if its goal of $150,000 is reached. Since launching his funding campaign February 8, Weight has raised a little over $1,000.
Crowdfunding enables people with a great business idea to ask the general public for the funding they need to set up or expand. The business sets a target for the money it wants to raise and explains how it will use the funds. People can then donate small amounts of money and in return receive bundles of special limited-edition rewards illustrating their critical role in the company's success.
The fundraising campaign can be found on crowdfunding site, Indiegogo, running from February 8 through March 24.
To learn more about the company and rewards, visit here.
About Proof
Proof Of Purpose® is responsible for designing, marketing and distributing authentic lifestyle apparel for a vast variety of life applications. Proof® is a privately held company, founded in 2011.