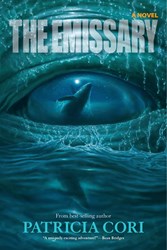 Cori sends a message of hope to all of us who are longing to connect with our soul mates. Her own adventurous spirit + passion can be found within Jamie Hastings, leading psychic researcher, telepath, main character in The Emissary.
Los Angeles, California (PRWEB) February 12, 2014
In 1983 Patricia Cori, a successful career woman in San Francisco, was stuck in a nowhere relationship. But things were to change dramatically. Cori went solo to a friend's party and was talking with the hostess about her plan to break up with the nowhere man she was involved with when out of her mouth came these words: "And anyway … I know my soul mate is waiting for me in Rome." This surprised them both, and upon realizing that she just seemed to "know it" on some deep level, the hostess told Cori, "Well then go to Rome and find him!"
A world traveler since before she graduated high school, Cori had yet another of her leap-of-faith moments—call it an epiphany! Within two weeks, she dumped her boyfriend, quit her successful hotel career, sold her belongings, and bought a one-way ticket to Rome—with only enough money to live there for a year.
She dated a few men in Italy and then one fated day she met her "other half," Franco, at a networking event. They exchanged business cards, and that was it. But the spark was already there! Seven months later he called to tell her he simply couldn't get her out of his mind. They made plans for a dinner that set the tone for the most beautiful, romantic, intense, and deepest connection one could ever imagine. On that very first date, Franco told Cori, "I know this is going to sound like a line, but it comes from my heart. I'm going to love you for the rest of my life." And he has. Now that's a soul mate connection!
Twenty-five years after that first dinner, they exchanged vows in a romantic commitment ritual. They surprised a group of 26 travelers that Patricia was leading on an excursion of the sacred sites in England with an Arthurian style wedding ceremony in the land of Arthur and Guinevere. Ah yes, and don't Franco and Cori go back to that romantic little Roman trattoria where it all began every Valentine's Day to celebrate the magic?
Cori sends a message of hope to all of us who are longing to connect with our soul mates. We must be open to listening to our inner voice, to leaving our comfort zone, and to be willing to fly into the unknown. It is no surprise that this adventurous spirit and passion can be found within Jamie Hastings, leading psychic researcher and telepath and the main character of Patricia Cori's exceptional debut novel, The Emissary. Jamie reluctantly agrees to consult for USOIL, a Houston-based oil company that is searching drill sites in the most pristine waters of the Pacific Northwest—or so it appears. A bizarre unfolding of events aboard ship sparks the unraveling of a truly evil plan of a shadow government that is intent upon silencing the music of the oceans, and destroying all life on the planet.
Cori's passion and deep soul connection for the safety of whales and dolphins is expressed through Jamie Hastings and her dramatic troubled journey at sea as she successfully communicates with the magnificent beings. In this suspenseful, hair-raising adventure, Cori combines a tale of corporate and government intrigue with an environmental warning, one that questions the very future of life on planet earth and beyond. From the first page The Emissary (North Atlantic Books, March 2014) propels us on a journey that takes us deep—into the Hidden—as we are led by a determined woman whose mission it is to make known the urgent secret of the whales in time to save the world.
What is it that the great whales are trying to convey? Who are they trying to protect? What is the mystery of their guardianship? And can the Emissary overcome the adversities cast before her, in time to avert a global disaster, from which there may be no return?
Patricia Cori is an inspiring icon of truth and a living model of the adventurous spirit and seeker within us all. She is one of the most well-known and established authorities on the realms of the mystic, views of the world and multidimensional reality that challenge the status quo. Cori has been a key voice in the alternative media for decades, bringing paradigm-busting information to the public since 1996, contributing a wealth of material to the new thought community with seven best-selling books, published in more than 20 languages, including Atlantis Rising, The Cosmos of Soul, The Starseed Dialogues, and Before We Leave You.
In 2012, she founded the global nonprofit association Save Earth's Oceans, Inc., dedicated to restoring the balance of the fragile ocean ecosystems and saving the whales and dolphins from whaling, slaughter, and exploitation. As president and CEO of the organization, she is determined to raise the consciousness of human beings around the globe, in order to alter the destructive course we find ourselves on and to re-establish the harmony of Earth. Cori has now turned her talent to screenwriting, having completed a full-length feature script of The Emissary that has already been optioned and is in development to become a major motion picture.