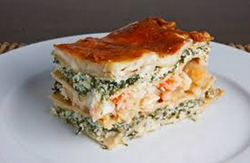 "Maine fish and seafood remain among the most natural, sustainable and healthy food sources in America," says Mark Murrell.
(PRWEB) February 12, 2014
On Tuesday, the French president arrived at the White House for the first State Dinner held there in over two years, and as CNN White House Producer Matthew Hoye reported in a story on Feb. 11, no detail would be spared for the event.
Tuesday night, the President and Mrs. Obama hosted French President Francois Hollande, presenting national fare from farmers and growers across the USA. According to Hoye, White House chefs said they hoped to "honor our guests by showcasing the best of American Bounty."
The evening commenced with a reception, and a source told Hoye that the hors d'oeuvres would feature "smoked Maine trout actually smoked in Maine hardwood." This was not surprising to Mark Murrell, owner of GetMaineLobster.com.
"Maine fish and seafood remain among the most natural, sustainable and healthy food sources in America," Murrell says. "A trout smoked in Maine hardwood combines the best of our robust resources with the spirit of the New England coast."
Additionally, Murrell points to the healthful qualities of fish.
"Both the French and the Americans have a longstanding tradition of enjoying delicious fish as a dietary staple," says Murrell. "But Americans are waking up to the nutritional value of seafood, which is high-protein, low-fat, and packed with minerals."
According to Murrell, Maine is not only known for its famous lobster, but for healthy, delicious fish including trout, salmon and haddock, which can grace any table at an affordable price. For ideas, recipes and more information about fish and seafood, visit GetMaineLobster.com.
For the full story on the White House dinner, visit CNN.com.
About GetMaineLobster.com
GetMaineLobster.com, a division of Black Point Seafood and Black Point Gourmet, hand-selects the finest Maine lobster, seafood and beef products for convenient distribution throughout the United States. Their passion is to make fresh, quality seafood readily available to customers across the country, which is why they buy from only the most trusted, well-established suppliers to ensure that they receive the finest products available.
GetMaineLobster.com was selected out of the more than four million small American businesses served by Chase bank to represent its new Platinum Business Checking product for its 2013 national advertising campaign.