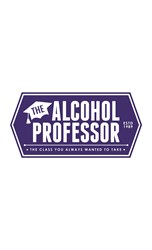 "Nothing says Valentines Day than a Bloody Red Cocktail" The Alcohol Professor
New York, New York (PRWEB) February 13, 2014
The Alcohol Professor offers its favorite students three wonderful cocktails to celebrate Valentine's Day.
San Valentín Sangriento (My Bloody Valentine)
60 ml (2 oz) Straight Rye Whiskey, such as Masterson's 10 Year Old, silver medalist in the 2013 NY International Spirits Competition
15 ml (1/2 oz) Barolo Chinato Cocchi (or red Vermouth will do in a pinch)
7.4 ml (1/4 oz) very bitter Amaro, such as Dell'Erborista
15 ml (1/2 oz) Fresh Blood Orange Juice
1-2 bar spoons (depending on how much of a spanking from the Amaro you can take) of good quality Maple Syrup
3-4 drops Mole bitters, such as Bitterman's Xocolatl
1/2 wheel of the Blood Orange for garnish
Combine all ingredients in a shaker with ice. Shake until its heart runs cold. Strain into chilled cocktail glass. Attempt to balance the half orange wheel on the rim, but it's OK to let it fall into the glass. The greatest love is never perfect.
My Bloody Ax ("My Damned Ex")
● 50ml (1 2/3 oz) Wild Turkey 101 Bourbon
● 15ml (1/2 oz) Giffard Ginger of the Indies, or Barrow's Intense Ginger Liqueur
● 20ml (2/3 oz) Fresh Blood Orange Juice
● 15ml (1/2 oz) Fresh Lemon Juice
● 1 Egg White
● 1 pinch ground cloves
In a Boston Shaker dry shake all ingredients except cloves, then shake again on ice. Double strain into pre-chilled coupe glass. Sprinkle ground cloves on top.
Some exes deserve to be axed. She loved ginger, but wouldn't get around to Bourbon. She liked oranges (even when they were bloody), but couldn't handle life's lemons. And while she was all about flowers, cloves always riddled her. Enjoy, while she's still smiling at you.
Weekend in Caracas
This romantic getaway is brought to you by Alan Gold, The Rum Barrel, Key West, Florida.
60 ml (2 oz) Fresh Blood Orange Juice
44 ml (1.5 oz) Santa Teresa 1796 Ron Antiguo de Solera (you could also use Bacardi Ron Solera)
7.4 ml (1/4 oz) Demerara Syrup
Slice Blood Orange
1 Fresh Blackberry
2 Fresh Raspberries
2 dashes Angostura bitters
½ wheel of Blood Orange for garnish
Muddle the fresh fruit and bitters in bottom of a mixing glass. Add rest of ingredients with ice and shake until well chilled. Double strain into a chilled coupe or Martini glass. Garnish.
The Alcohol Professor is Adam Levy who is also the founder of the New York International Spirits Competition being held October 18-19th 2014, New York International Wine Competition May 19-20th 2014 and New York International Beer Competition February 8th 2015.
The Alcohol Professor is expanding internationally and the Berlin International Spirits Competition will be held March 2nd 2014.