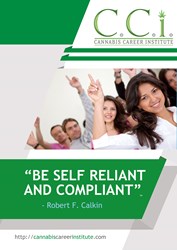 Cannabis Career Institute has been in the forefront of developing Industry Standards, providing business training and best professional practices for the Medical Marijuana Business world since their inception in 2009.
Las Vegas, Nevada (PRWEB) February 11, 2014
While everyone speaks about the Cannabis or Medical Marijuana Industry, only a select few individuals have the actual experience and expertise to teach Business Classes geared towards actual professional training and certification; Cannabis Career Institute is the premier frontrunner in the development and standardization of educational and business training specifically designed and tested for the Medical Marijuana Industry.
In the wake of Colorado legalization of cannabis in 2014 and the previous Washington State cannabis recreational use approval in 2013, a large segment of the United States is in the process of making decisions regarding the legalities and requirements of medical and recreational cannabis sales and usage, on a state-by-state basis.
Beyond the currently acknowledged scientific medical value of cannabis, the financial significance of taxation and much needed income for states and cities has prompted many of the US States, cities or municipalities to begin seriously considering medical marijuana or recreational use of cannabis for their residents.
Colorado tax revenue intake during the month of January, 2014 alone - from only 18 marijuana businesses - has been reported to have brought in $1.24 million to $3 million in additional revenue.
Nevada, while still struggling with some aspects of the cannabis industry, has the beginnings of legalization already in process for medical marijuana, with near future plans to consider a much broader approach. This means that training and education on business standards in the cannabis industry is tantamount to success for both the States and the individual businesses themselves. In particular, states like Nevada which have publicly acknowledged that the state will be extremely stringent with their regulations - it is extremely important that current and future cannabis businesses understand the industry itself, the individual state regulations and the best standards for medical marijuana business practices are adhered to.
As entrepreneurs and established companies realize the potential for large profit margins from the cannabis industry - and the individual cities, counties and municipalities realize the potential for increased tax revenue from that industry - the need for education, business training and certification becomes mandatory in order to succeed professionally and legally.
Cannabis Career Institute has been in the forefront of developing Industry Standards and best professional practices for the medical marijuana business world since their inception in 2009. With the very realistic expectation of the Cannabis Industry bringing in billions of dollars in revenue annually - entrepreneurs, educators and professionals are turning to CCI to train them on the most efficient ways to enter this potentially lucrative market.
Robert Calkin, founder and CEO of CCI, has been involved in the medical marijuana business industry for over 30 years and is considered a leader in cannabis business training. Currently CCI has successfully graduated over 1500 students and has assisted many of those graduates create medical marijuana dispensaries, delivery services and grow operations which remain successful today.
The upcoming class in Las Vegas, Nevada will be held on Saturday, February 15th, 2014. The cannabis business training class is geared towards helping students learn more about the industry as a whole, while providing an excellent entourage of speakers who are specialists within their subjective fields.
Lawyers, marketing experts, extraction experts, edibles experts, investors and a variety of influential people to network with are usually on the list for every cannabis business training class experience.
The full day educational module seeks to provide students tangible knowledge and useable information they will need to successfully become a part the Cannabis Industry. Classes are designed from a very regimented and successful business perspective that is heavily detailed in the provided CCI step-by-step course book that students may reference during the class and in the future to keep them on track. The course book is an extremely valuable asset and provides sample contracts, legal information, documentation for business transactions, medical marijuana grow operation instructions, outlines for business plans and even medical marijuana edible recipes.
Students attending CCI Courses learn a variety of subjects to help them build a successful cannabis career, including: How to become a medical marijuana patient; How to select an appropriate medical marijuana doctor; How to start a medical marijuana delivery service; How to form a Non-Profit medical marijuana collective; How to open a medical marijuana dispensary; How to start a medical marijuana grow operation; How to obtain a state ID issued card and medical marijuana recommendation; How to create a medical marijuana business plan; How to start a medical marijuana edibles operation; Understanding State Laws, bylaws and the Constitution; plus a wide variety of other business training and education for the Cannabis Industry. Each course book is designed based on the laws and regulations within each state and specifically for the state location that the Cannabis Business Training takes place.
It is highly recommended that students wishing to enroll in CCI classes do so at least 24 hours prior to the class start, to ensure they will have a guaranteed course book. While late registrations and at-the-door registrations are accepted, the amount of manual course books that are printed out for each class date may run out. Should any student pay for the class and course books are not available based on overwhelming response, CCI will ensure that students receive a course book at the earliest possibility, sometimes during lunch breaks or if required, shipped to them the following day.
Registration for the February 15th CCI Cannabis Business Training class in Las Vegas, Nevada may be purchased ahead of time on the CCI website or you may call (800) 753-2240 to reserve your seating.
Class will be held at:
The Hilton Garden Inn
7830 South Las Vegas Boulevard – Las Vegas
Time: 10:00 am – 7:00 pm
If you would like to learn more about Cannabis Career Institute, please visit their website located at https://cannabiscareerinstitute.com