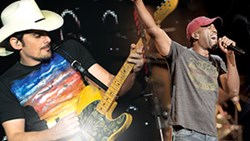 Milwaukee, WI (PRWEB) February 12, 2014
Paisley is a critically acclaimed singer, songwriter, guitarist and entertainer, which has earned him numerous awards including three GRAMMYs, 14 Academy of Country Music Awards, 14 Country Music Association Awards, as well as three awards from ASCAP as Country Music Songwriter/Artist of the Year. He is also a proud member of the Grand Ole Opry, having been inducted in 2001. Since his first #1 single in 1999, Paisley has placed 22 singles at the top of the charts. His current single is "The Mona Lisa," from his album, Wheelhouse, - which also includes the back-to-back #1 hits, "Southern Comfort Zone" and "Beat This Summer." Wheelhouse is Paisley's first self- produced project, on which he wrote or co-wrote all of the tracks. Visit http://www.bradpaisley.com for more information.
Rucker is a platinum selling songwriter who just earned his third career GRAMMY award and first as a country artist for Best Country Solo Performance. Additionally, Rucker recently received three Academy of Country Music Awards nominations including Single Record of the Year, Song of the Year and Vocal Event of the Year for "Wagon Wheel" featuring Lady Antebellum. The Morning Call hails him as "the best male performer in country music right now." With his fourth single, "Miss You," from his third country album True Believers at radio now, Rucker is currently headlining a nationwide tour as well as performing on the Grand Ole Opry stage as one of their newest members. Visit http://www.dariusrucker.com for more information or follow him online at @dariusrucker.
Tickets go on sale Friday, February 21 at Noon and include Summerfest admission. Tickets can be purchased at the Summerfest Box Office, Ticketmaster Ticket Centers, Walmart stores, online at Ticketmaster.com and by phone at 1.800.745.3000 (live Ticketmaster Agent) or 1.866.448.7849 ("Ticketmaster Express" automated phone line). Patrons may also utilize "ticketfast" at Ticketmaster.com to print barcoded concert tickets from home. Convenience fees may be added to all purchases.