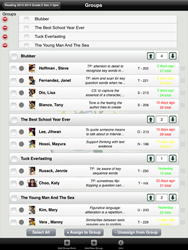 I highly recommend this app to anyone who wants to create a dynamic portfolio of their students' work and document their achievement across the school year.
Mahwah, NJ (PRWEB) February 12, 2014
One new functionality is the incorporation of a group point system, developed to help teachers better manage and motivate cooperative groups. Creators of Chronicle, husband and wife teachers Andy and Ellen Raupp, explain, "Regardless of the grouping or subject – be it book clubs in reading, lab groups in science, or debate teams in history – a teacher wants to be able to maximize productivity. In a perfect world, all students would be intrinsically motivated all the time; however, just as adults can sometimes struggle with this, the same is true with students – no matter the age. An educator should always strive to foster intrinsic motivation, but extrinsic motivators, if implemented with an approach that doesn't encourage expected rewards, can be a very valuable tool for teachers working in the trenches of the classroom."
With some quick taps of a group's up or down arrow, rewarding or deducting points is now an option for Chronicle's users.
In order to assist with the management of groups, Powerhouse Education has additionally included a drag and drop feature, which allows the teacher to easily drag a student from one group and drop him or her into another group. This drag and drop feature makes flexible grouping even easier for teachers. Powerhouse's recent Version 1.3 YouTube Tutorial provides an informative walkthrough on the process.
Since Chronicle is being used by teachers all over the world, Powerhouse Education has also continued to work to make Chronicle as intuitive as possible for educators outside the United States. One of Chronicle's many features is the ability to associate the Common Core Standards with a class for reference or student tracking purposes. The icon for these standards, although faded to indicate disassociation, originally appeared, for example, when taking a note. This is no longer the case, as it cleans up the screen for users in which these standards do not apply. Powerhouse Education, however, upon request, offers the ability to incorporate any school's applicable standards, not those in just which the Common Core Standards apply.
Powerhouse Education is devoted to continually improving Chronicle, but over the relatively short time Chronicle has been in the ed tech marketplace, it has been making an impact on teachers and students alike. John Otterstedt, the 2013 MENSA Distinguished Teacher Award recipient, has recently provided his feedback, saying, "I have been using the Chronicle app for the past 5 months. For years, I had been hoping to find a way to document my students' learning 'on the fly' without having to take handwritten notes. After playing around with different productivity apps and wishing that there was something specifically designed for educators, I found a competing app that didn't quite fit my needs. Although the other app allowed me to take notes, it didn't take advantage of the multimedia functionality of the iPad. This need was addressed by Chronicle. Since September, I have been documenting my students' progress via photo snapshots, video, audio, and text notes. Not only has it been easy, but I have to admit that it has been fun. Likewise, it has been fun for the students. Whenever the iPad is in my hand, they take their discussions and classwork to the next level. They enjoy having their work captured by the app and feel a sense of pride when I compliment their efforts and take a moment to archive the fruits of their labor. I highly recommend this app to anyone who wants to create a dynamic portfolio of their students' work and document their achievement across the school year."
Powerhouse Education was founded by husband and wife teachers, Andy and Ellen Raupp. With each having approximately ten years of teaching experience, Andy and Ellen are board certified teachers working in a nationally top-ranked school district in New Jersey. Holding undergraduate and graduate degrees, both have been awarded the prestigious title of "Teacher of the Year". Understanding the increasing demands and expectations placed on teachers, Andy and Ellen created Powerhouse Education with the vision of providing teachers with the tools to effectively and more easily implement educational best practices, knowing that empowered teachers will yield stronger, more successful students.