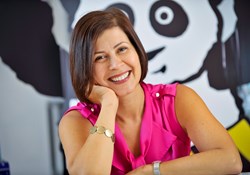 One of the best things parents can do for their kids in 2014 is to start teaching them a second language.
New York, NY (PRWEB) February 12, 2014
Little Pim promises to make a big impact on this year's 111th American International Toy Fair at the Jacob Javits Convention Center. The award-winning foreign language learning program for young children will debut its expanded product line at Booth #5936. Additionally, CEO and Founder Julia Pimsleur will share the stage with Debbie Sterling, CEO of Goldieblox on the Walmart Women in Toys Global Economic Empowerment and will also speak at the Digital Kids Conference. Pimsleur is being honored with a Nomination for Wonder Women in Licensing & Entertainment at the Women in Toys Wonder Women Awards Dinner. Little Pim's line includes its popular apps, videos, books, flash cards, plush and sets to teach kids Spanish, French, Chinese and has programs in 11 languages.
"One of the best things parents can do for their kids in 2014 is to start teaching them a second language," says Julia Pimsleur, CEO and founder of Little Pim. "We offer exciting language learning tools specifically made for young children. We have seen an explosion of interest from parents – they know their kids are growing up in a world that's becoming more and more global, and they also know that learning a second language carries many cognitive benefits. We're excited to partner with retailers to help parents introduce their children to a second language at the age they learn best, which is before six."
Little Pim's line features eleven languages in its core series and sells physical products such as books, flash cards and plush as well as digital products like vocabulary booster games in iTunes. Little Pim is also available on LeapFrog and VTech devices and comes preloaded on the Tabeo (Toys 'R Us) tablet. Brand new this year to the Little Pim collection is a Progress Tracking App that allows parents to track their child's growing foreign language skills. Available on iOS, the free app is easy-to-use, and can be used on its own, as a flash card game, or in conjunction with the Little Pim video series. Little Pim has also added English ESL flash cards to its ever-expanding collection. The entire flash card line introduces 45 words and phrases for mealtime, playtime and other daily activities.
During Toy Fair, you can learn about the foreign language program at Booth #5936, but there are plenty of other opportunities to say Hello, Bonjour, Hola, Ciao or Ni Hao to Little Pim.
Pimsleur and Deb Sterling from Goldie Blox will join The Keynote Panel Discussion that kicks off the Walmart | Women in Toys Women's Global Economic Empowerment Initiative. The 2nd Annual Event will be held on Tuesday, February 18th at Jacob Javits Convention Center from 9 a.m. to 11 a.m. Be sure to arrive early, as last year there was a jam-packed standing room only crowd of people who attended. The two will talk about raising venture capital money for women-owned start-ups . Following that discussion, a panel will convene to discuss pitching to Walmart, immediately followed by Walmart pitches from 11 a.m. to 5 p.m.
Pimsleur will also be a speaker at the Digital Kids Conference that will take place during Toy Fair. The serial entrepreneur and experienced fundraiser will present a case study "Taking Little Pim 'Big' through Venture Capital on Wednesday Feb. 19th from 11:15-11:30 a.m. at the Jacob Javits Center, Hall 1 E (Room 1E17). She will discuss how she raised $2M in venture capital for her company Little Pim, share the impact on her business, and offer tips on securing capital in this highly competitive space.
Finally, Pimsleur and Little Pim are nominated for a Wonder Women Award in Entertainment at Licensing at this year's 10th Annual Wonder Women in Toys, Licensing & Entertainment Awards Dinner. The dinner celebrates the remarkable leaders, tireless innovators and other women who have made a lasting impression on Toys, Licensing and Entertainment with their passion and vision, and who lead by example and genuinely make a difference in unique ways.
For more information, please visit http://www.littlepim.com. #LittlePim #ToyFair
ABOUT Little Pim:
Little Pim is an award-winning foreign language learning program for babies, toddlers and pre-schoolers. With Little Pim, families can get their first introduction to a foreign language in a way that is easy, fun and effective. Little Pim's unique Entertainment Immersion Method® was designed to engage young kids during the window in which research has shown the brain is most receptive to language learning. Building on a child's natural love of play, the videos blend real kids and animation to provide a captivating full-immersion experience for even the youngest learners. The program is the brainchild of Julia Pimsleur Levine, the daughter of Dr. Paul Pimsleur, creator of the Pimsleur Method, the popular language-learning program for adults. She was inspired to create Little Pim based on her own bilingual childhood. Little Pim is available 11 languages including Spanish, French, Chinese and Italian via videos, music, books, flash cards, gift sets and more. To find out more, visit Littlepim.com.
ABOUT Women In Toys
The Mission of Women in Toys is to provide a professional networking base for women working within the Toy, Licensing and Entertainment Industries and to acknowledge and promote the achievements of these women. WIT provides resources and information to empower both women and men in our industries. WIT, founded in 1991, has chapters in the United States, Canada, China, Australia, Germany, Greece, Israel, The Netherlands, Scandinavia, Spain and the United Kingdom.
# # #