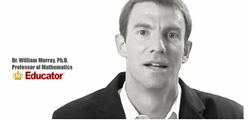 Dr. Murray is a revered instructor of 10+ years.
Los Angeles, CA (PRWEB) February 14, 2014
Unbeknownst to most of us, we have an uncanny relationship to triangles through our technology and research; Dr. William Murray will reveal the secrets and importance of Trigonometry in his course at Educator.com.
Astrologists use it. Economists use it. Game designers, architects, engineers, chemists, oceanographers, and pharmacists use it--trigonometry. With Dr. Murray's comprehensive course, learn the basic trigonometric concepts that professionals use to chart the depths of space and make sound proof rooms. Dr. Murray is a revered instructor of 10+ years. His explanations are thorough and detailed, but easy to follow. Some of the topics covered are:

Angles
Sine and Cosine Functions
Inverse Functions
Double Angle Formulas
Word Problems and Applications of Trigonometry
Complex Numbers and Polar Coordinates
Vectors
and much, much more!
Trigonometry is just the tip of the iceberg. Whatever it is you aspire to do, Educator.com has a course for you; excel and grow confident in the courses and skills spanning Math, Science, Software Training, Computer Science, Language, and AP/SAT Test Prep for just one membership subscription. Each plan gives you the power to learn anytime anywhere with customizable mix and match lessons playlists, down-to-the-second precise topics searches, and best of all complete access to all 100+ courses like AP Biology or AP Chemistry. Join Educator.com's scholarly community through your choice subscription plan: $45 for the first month ($35/month thereafter), $180/6 months, or $300/12 months.
Educator.com strives to connect bright students with the best instructors. Dr. William Murray earned his B.S. in Mathematics from Georgetown University, and further pursued his passion for math at the University of California, Berkeley, earning his PhD.
Educator.com is proud to provide today's scholars with advanced digital study materials that meet both their academic and financial needs. New and exciting courses are frequently added. At this time, Educator's Trigonometry lessons and accompanying free sample lessons are available for immediate viewing.
Educator.com pairs students with the best university professors and educators in the country. Educator's goal is to provide high school, college, and professional students with a variety of academic subjects in an online video format that is affordable, accessible, effective, and comprehensive.
The most effective way to improve education is to have the best teachers teach. With the best instructor in a subject, learning anything is possible. Every student deserves an excellent education regardless of geographic location or socioeconomic status and with Educator.com's affordable pricing everyone can access the site's complete content. For more information about the company please visit the About Us Page.