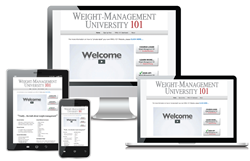 Education is the key to empowerment and long-term weight-management success.
Los Angeles, CA (PRWEB) February 18, 2014
Private Label Fitness, (PLF) - a leader in professional health education and support components, announced today the launch of its pre-built, Weight-Management University-101 (WMU-101) websites -- available to health, fitness, medical and workplace wellness professionals under private label to reinforce their own brands.
In direct contrast to quick-fix diet programs, the WMU-101 websites are positioned as the "adult conversation" regarding both weight and overall health management.
The WMU-101 websites offer an online, multi-media education providing the basics of human physiology in a fun, interactive and easy-to-understand format using "lay terms" throughout several mediums including:

high-definition videos;
audio downloads (.mp3 files);
document downloads (.pdf files);
multiple choice quizzes.
They are specifically designed for health, fitness and medical professionals who advocate proper nutrition, productive exercise and positive lifestyle choices - with a focus on body-composition rather than pounds-on-the-scale as a metric.
"Education is the key to empowerment and long-term weight-management success," says Art Rothafel, president of Private Label Fitness and a 25-year veteran of the industry.
"So, the very first step to long-term weight-management is understanding how the human body actually functions. These websites are the perfect tool for professionals to help participants learn the science and physiology behind managing their weight, increasing energy, handling stress and creating their own feelings of health and well-being."
Each pre-built website contains a comprehensive 12-session curriculum that can be implemented as a self-guided program, or, as an adjunct "knowledge resource" to existing weight-management, nutrition or wellness programs.
The online content and high-definition videos display on all digital platforms from mobile phones, tablets and laptops to desktops and large screen projectors. This allows both administrators and participants to access WMU-101 from home, work or anywhere internet access is available.
To support weight-management professionals in promoting the "educational experience," the WMU-101 websites come with their own marketing support packages including promotional videos, slideshow presentations, mini-posters, handouts, trifold brochures, press releases, direct mail templates and graduation certificates.
A free, no obligation 7-day trial is available at the company's website.
About Private Label Fitness
Since 1991, Private Label Fitness has been a leader in "knowledge-based" nutrition and exercise components for weight-management, sport-specific training and general fitness programming. The company specializes in creating "best of breed" fitness components for the health, fitness and medical professionals and making them available for private label.