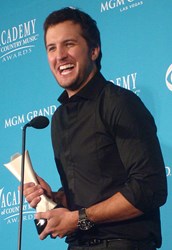 Chicago, IL (PRWEB) February 11, 2014
Ticket Down announces that Luke Bryan will be headlining at Soldier Field on August 31st. Luke Bryan is one of the most popular acts in all of music, not just country. The Georgia-native has a reputation for putting on one of the best shows in the entire music business. His 2013 "Dirt Road Diaries" tour was one of the most critically acclaimed by the media and was one of the most attended by fans. Most of the shows were sold out and his 2014 tour is more of the same. His 2014 tour features the same opening acts of Cole Swindell and Florida Georgia Line, but for his Sunday, August 31st date at Soldier Field in Chicago, IL, Bryan will be joined by Swindell, Dierks Bentley and Lee Brice.
Bryan burst onto the music scene in 2010 with "Rain is a Good Thing" and "Someone Else Calling You Baby," and has since gone on to bigger things. The former was his first ever No. 1 hit on the Billboard country singles charts. Another noteworthy accomplishment is that five of his singles have been certified platinum by the Recording Industry Association of America for selling more than a million copies. Bryan has also released four solo albums including his 2013 release, Crash My Party. This was his second No. 1 album on the country charts and was his first No. 1 album on the Billboard 200 chart.
Swindell got his big break in 2013 when Sirius XM's channel 59, The Highway, first played his track, "Chillin' it." The single exploded and Swindell became a star. He filled in for Thompson Square on many dates of the 2013 tour and was a welcomed addition to the 2014 tour. He has since released another single, "Hope You Get Lonely Tonight," which is rising up the country charts.
Bentley is another of the most popular artists in country music. He has released numerous hit singles throughout his solo career including "Home," "Come a Little Closer," "Feel That Fire," "5-1-5-0," and his latest hit, "I Hold on." The latter hasn't reached the top of the country singles charts on Billboard, but the single is one of the most played on the radio and has reached the top of several weekly countdowns.
The final addition to this tour is Brice. He is one of the fastest rising stars in country music, having released numerous chart toppers including "A Woman Like You," his first No. 1 track, "Hard to Love," "Parking Lot Party" and "I Drive Your Truck," one of the most emotional songs of 2013. His latest album, Hard 2 Love, peaked at the No. 2 spot on the U.S. country charts and reached gold status according to the RIAA.
Soldier Field first opened in 1924 and is one of the most loved and appreciated stadiums in the National Football League. The stadium is home to the Chicago Bears and has seen numerous memorable moments take place here. It has also been home to countless other events and moments that have left a lasting legacy on the city. When Bryan, Brice, Bentley and Swindell visit Soldier Field, it will be another event that will leave fans talking when the show is over.
About TicketDown.com:
Ticket Down delivers tickets to sold out concerts and events worldwide when no one else can, and they do so at discounted prices. As a member of TicketNetworkDirect, they can guarantee the delivery of tickets on time for sporting events like NASCAR, NBA, NFL, and NHL. This popular ticket exchange also has Luke Bryan Soldier Field tickets at great everyday low prices.