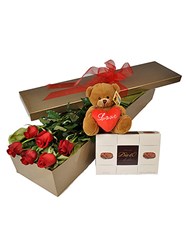 Flowersales employee, David Laan citing an increase in Teddy Bear sales of around 30% on top of last year, 'and we are still a few days out from February 14.'
(PRWEB) February 12, 2014
It seems 2014 is the year of teddy bears and half dozen roses, with leading online florist, Flowersales.com.au seeing a strong trend towards these items in their Valentine's Day flower sales.
While roses have always been the traditional gift for lovers' day, over the past 3 years there has been a steady increase in teddy bear popularity.
This year has seen that trend increase even further with Flowersales employee, David Laan citing an increase in Teddy Bear sales of around 30% on top of last year, "and we are still a few days out from February 14."
That doesn't mean there is a total disregard towards roses though; most stuffed companions are bought as an add-on to a bouquet of long-stemmed beauties.
As far as roses go, the most popular option for 2014 is bouquets of 6, just half of the once leading Valentine's Day purchase of a dozen roses.
One thing is for sure, with customers around Australia already spending approximately 15% more than they did last year, there will be plenty of happy lovers this Valentine's Day.