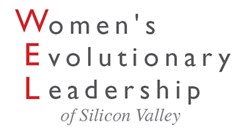 Women Rising!
Menlo Park, CA (PRWEB) February 12, 2014
A Women's Evolutionary Leadership Event
A very special Silicon Valley five-hour event in honor of International Women's Day includes morning and afternoon panels, interactive sessions, and a delicious buffet lunch. Details here.
Saturday, March 8th, 2014 10:30am-3:30pm
Quadrus Conference Center, 2400 Sand Hill Road, Menlo Park, CA, 94025
Panelists include:

Allison Johnson, Founder of West, former Head of Apple Marcom
Lisa Stone, CEO and Co-Founder BlogHer
Caroline Donahue, SVP Marketing & Sales, Intuit
Kat Gordon, Founder of 3% conference, named one of 2013′s "Top 10 Women to Watch" in Advertising Age
Sharon Meers, Head of Enterprise Strategy at Magento, eBay and co-author of "Getting to 50/50: How Working Parents Can Have It All"
Andrea Rees Davies, Ph.D., Associate Director at Stanford's Clayman Institute for Gender Research and founding education partner of LeanIn.org
Noni Allwood, VP and Senior Fellow for the Center for Talent Innovation currently leads groundbreaking research on women and multicultural talent, former executive for Fortune 500 companies.
Aimee Allison (Moderator) former director SF Department on the Status of Women, Bay Area radio / TV talk show host
Wendy Wallbridge (Curator and Moderator) TEDx speaker, Founder of WEL, Executive coach, author of the forthcoming book, "Spiral Up! A New Roadmap for Women"
More to be added...
Tickets are $139 including lunch. Register here.
Our event is generously sponsored by Dolby. Door prizes by NetGear.
Women's Evolutionary Leadership's mission is to support the full flourishing of women through events that inspire, educate, and foster connections that expand what is possible in our own lives and the world around us.
WEL will be partnering with Indiegogo to raise money for Samasource, an innovative social business that connects women and youth living in poverty to dignified work via the Internet.