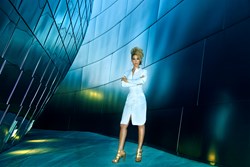 Space-age Olivia Pope
Los Angeles, CA (PRWEB) February 12, 2014
Victoria Platt's beautiful and recognizable face has adorned the small screen since her first appearance on the family favorite sitcom, "The Cosby Show." She then went on to set her mark with stand-out portrayals in the long-running daytime television dramas ABC's "All My Children" and CBS' "Guiding Light." Victoria has since gone on to guest star in successful television dramas like "The Mentalist" and "Bones." Recently, Victoria has made her way into the fantasy/sci-fi genre she loves playing the spellbinding, "Peg Mueller" on ABC's "The Gates" and now her "heavenly body" can be seen on the new soon to be hit CW series "Star-Crossed" premiering Monday, February 17, 2014.
Star-Crossed is about an epic romance between a human girl and an alien boy when he and eight others of his kind are integrated into a suburban high school 10 years after they landed on Earth and were consigned to an internment camp. Victoria plays "Gloria Garcia," a cool and collected U.S. Government liaison assigned to the school. She and Star-Crossed producers describe Gloria as a "space-age Olivia Pope."
The New York native and triple threat talent whose career began as a child singing and dancing on Broadway, loves playing Gloria. The character is a recurring one on Star-Crossed featured in nine episodes of the soon to be broadcast freshman season. Victoria is hoping the viewing audience will fall in love with Gloria too and that they will see much more of her in the future.