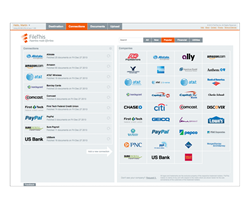 SAN FRANCISCO, CA (PRWEB) February 13, 2014
Just in time for Tax Day and Spring Cleaning, FileThis, the digital mailbox and filing service helps consumers get on top of their household documents, assuring them the ability to easily find any important document in seconds. FileThis is revolutionizing the way household documents are managed by automatically and securely fetching online bills, statements and other important home and finance accounts. FileThis allows consumers to store these text searchable documents where they choose. It analyzes each document and then tags and organizes it based on content, automatically separating medical records from financial, or bills from mortgage statements.
FileThis users feel like important documents are in their pockets at all times. Having key documents can be necessary in emergency situations, such as a visit to the hospital, or simply helping with locating tax-related documents. Everything is in one place and searchable by date, account, and more.
"FileThis is the secret to never losing anything!" explains Mark Keyes, a FileThis Beta user from Ashburn, Virginia. "It is absolutely the simplest concept, but it is so well conceived and executed that people like me can just 'set it and forget it'."
"I have FileThis connected to Evernote, and it is a dream come true," echoed Daniel Paul, also a FileThis Beta user of Boulder, Colorado. "It saves me hours each month trying to keep track of everything. The functionality and service by FileThis is fantastic!"
FileThis is free for users for the first six connections to more than 300 U.S. vendors, including financial institutions, insurance companies, and utilities. For more connections, FileThis offers different plans, including: $2 per month for up to 12 connections that run weekly; or, $5 per month for up to 30 connections that run daily.
A PERSONAL ASSISTANT FOR YOUR PAPERWORK
Like a personal assistant, FileThis does all the work and securely fetches all online statements, bills and other documents from companies like American Express, Chase, United Healthcare, Verizon, and many more without requiring repeatedly having to log in to each vendor sites individually. Then, FileThis organizes these files on the user's personal PC or the newly launched FileThis Cloud, or a cloud drive, including Evernote, Dropbox, Box, and Google Drive.
"We believe the time is right for consumers to go paperless. We're in the middle of a transition where some of the documents we receive as paper, some as digital, and some we have to track down and get ourselves – it's out of control," said Brian Berson, CEO and co-founder of FileThis. "We're thrilled to launch the platform today, and help everyone get on top of their household paperwork."
In addition to its fetching technology, FileThis Cloud and the new FileThis mobile app let users upload, email, or photo-capture any document. All documents are fully text-searchable and instantly available from any web-browser, mobile device, or tablet. Users can download the iOS app from the Apple App Store in late February 2014, and Android in April 2014.
About FileThis:
A Macworld "Best of Show 2012" winner, FileThis is the easy-to-use portal that safely fetches and organizes any and all important documents, including bills, bank statements, medical records, insurance policies, and more, eliminating paper waste and the need for a filing cabinet. FileThis utilizes bank-level security practices, including encryption, auditing, logging, and back-ups, and is backed by the Verisign security seal and the McAfee Secure badge. Available from any web-browser, mobile device, or tablet, FileThis offers your choice of storing your documents on your PC, in the FileThis Cloud, or in your favorite cloud storage location - including Google Drive, Dropbox, Evernote – making paperless organizing as simple as it is affordable. For more information visit http://www.FileThis.com.
###