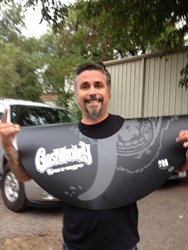 The New Gas Monkey Garage Bucket Tables in Black on Black
(PRWEB) February 13, 2014
MagneticSkins.com and the Discovery Channels "Fast N' Loud" are teaming up to offer TV viewers the ultimate in convenience and enjoyment -- Gas Monkey Garage Bucket Tables.
For the uninitiated, a bucket table is a standard table, similar to what's found in a high-end bar and grill. But there's an important distinction -- these tables have a space in the middle, and that space is perfectly sized for a bucket ice cold drinks. That makes these tables perfect for restaurants, bars, parties or Gas Monkeys -- and a must-have item for any respectable "man cave".
The tables, which are sold by MagneticSkins.com can be topped by a variety of the company's printed skins. These include sports themes featuring top NCAA basketball teams, making these MagneticSkins and bucket tables a great fit for March Madness and other sporting events. The MagneticSkins are also offered in lifestyle themes such as CrabFest, Home of The Brave, Made in the US, and can be custom printed to fit any personal preference or organizational need.
Gas Monkey Garage, the popular crew behind the Discovery's Channel's "Fast N' Loud" reality series, has teamed up with MagneticSkins.com to offer an exciting new series of show-themed bucket tables.
"Fast N' Loud" features Gas Monkey head honcho Richard Rawlings traveling the U.S. in search of derelict cars, then restoring them to their former glory. Fans of the show will now be able to buy Gas Monkey Garage themed Bucket Tables directly from their website.
Sports, lifestyle or custom skins and bucket tables can be purchased directly from MagneticSkins.com.
MagneticSkins.com offers a variety of MagneticBkins Bucket Tables suitable for use in bars, restaurants, homes or anywhere people like to gather for drinks. The company, based in Southern California, has partnered with a variety of notable corporate, sports and entertainment entities to offer dozens of popular designs and with the moto "Your Good Times Are Always Within Reach" you know you'll be in good hands.