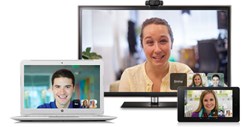 Chromebox for meetings brings together Google+ Hangouts and Google Apps in an easy-to-manage Chromebox, making it simpler for any company to have high-definition video meetings.Caesar Sengupta, VP, Product Management
London, UK (PRWEB UK) 13 February 2014
Earlier this week Google posted [on the Google Enterprise blog] the benefits of utilizing Google Hangouts and Chromeboxes to bring meetings to anyone, from anywhere. Caesar Sengupta, VP, Product Management, commented, "Chromebox for meetings brings together Google+ Hangouts and Google Apps in an easy-to-manage Chromebox, making it simpler for any company to have high-definition video meetings."
The most effective meetings are those where participants are in the same room, or face-to-face. Face-to-face meetings facilitate real-time collaboration, personal human contact and the opportunity to develop important exchange relationships. In an increasingly global economy there is not always the ability to meet in person. Video conferencing replicates the benefits of in-person meetings at reduced cost and time, whilst ensuring an efficient use of company resources to make faster business decisions.
Any company can upgrade their office and meeting rooms with a Google Chromebox, built on the Chrome principles of speed, simplicity and security to work efficiently and effectively across distance.
The question is, how is the Chromebox revolutionising meetings?
Instant meeting room. Chromebox for meetings comes with a blazing-fast Intel Core i7-based Chromebox, a high-definition camera, a combined microphone and speaker unit and a remote control. Companies can set up an entire room in minutes and easily manage all meeting rooms from a web-based management console. All that is required is the display in a room, and organisations worldwide are good to go.
Simpler and faster meetings. Walk into the room, click the remote once and you're instantly in the meeting. No more complex dial-in codes, passcodes or leader PINs. Share your laptop screen (great for presenting ideas) wirelessly there's no need for any cords and adaptors. Integration with Google Apps makes it easy to invite others and add rooms to video meetings, directly from Google Calendar.
Meetings with anyone, anywhere. Up to 15 participants can join the video meeting from other conference rooms, their laptops, tablets or smartphones. Need to meet with someone who doesn't use Chromebox for meetings? That's easy too—all they need is a Gmail account. Individuals can also connect to rooms that have traditional video conferencing systems using a new tool from Vidyo, and participants who prefer phones can join your meeting with a conference call number from UberConference.
Just Eat, leading online takeaway aggregator currently uses Chrome devices across their global workforce of 1000 employees. Martin Russell, Head of IT Services at Just Eat will be discussing his involvement with Chrome and Google Apps for Business at AppsCare's upcoming seminar on Thursday, 27th March 2014. For more information and to register to hear Martin speak and to understand more about the power of Google and Chrome click here.
About AppsCare
AppsCare®, Google Enterprise Premier Partner is a world leader in cloud services provisions, supporting over 2500 customers in 33 countries. AppsCare® comprise 10+ years experience deploying technical solutions for organisations of all sizes and geographies utilising their GStall delivery methodology and AppsCare® support programmes. Their engineers were some of the first to achieve both Google Apps Certified Deployment Specialist (GACDS) and Cisco IronPort Certified Security Specialist (CICSS) accreditations providing unrivalled expertise in their customer care teams.