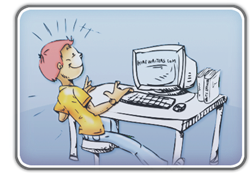 "Our goal is to provide the highest quality written content, at the lowest possible cost," says Brandon Harris, President of HireWriters.com
Ann Arbor, Michigan (PRWEB) February 14, 2014
A big problem that people face when ordering written content online is that it is written by someone who "claims" to be a native English speaking person, but clearly it is not. Often times, it is pretty easy to catch. For example, the sentence below is a pretty good representation of something being written by someone who is not a native English speaking writer:
"The magnificently esteemed range of kitchen equipments of Homeline is making every housewife choosing the beautiful and exquisite design of home glow with joy."
Yes, Brad Johnson from California seems suspiciously like Naresh Gupta from India. That urgent piece of copy is completely useless, and once again precious time and possibly money have been wasted. With a writing market saturated with non-native English speaking writers posing as native English speakers, its often difficult to find talented native English speaking writers.
Ann Arbor, Michigan based content providers HireWriters.com have once again upped their game to ensure that only genuine, well-educated, native English speakers are recruited to their writing team.
Each new writer signing onto the site has to pass a timed English grammar test. Writers who fail that test can't proceed with their application to become a writer with HireWriters.com. And because a good grasp of grammar doesn't necessarily mean that a person can write, even those who pass the test are then required to submit a 150-word essay. Each essay is reviewed for style, fluency, spelling and punctuation. Only about 10% of writers who apply, are able to pass the stringent grammar test and also get their essay accepted by the HireWriters.com staff.
HireWriters President Brandon Harris says, "We have dramatically improved our level of service to our clients as a result of this screening. Our goal is to provide the highest quality written content, at the lowest possible cost. I know that having stringent requirements to write for our clients will give us the edge against our competition in the long run."
HireWriters CEO Greg Meyers goes on to say, "We want HireWriters to be the 'go to' resource when you want great writing at a very economical price. Our clients frequently tell us that we are already offering a distinctly higher quality service than that of our competitors, but we're always chasing that last edge of excellence. This new grammar test, combined with our anti-fraud security measures, ensures that we have the best team of native English speaking writers available anywhere in the world."
One feature of the HireWriters service which users find very useful is the ability to specify that their article be written in British-English or American-English. The HireWriters writing team offers an almost bewildering range of expertise; no job is too obscure or unusual for them.
"A typical writer from HireWriters has a degree from an American or British university, has experience in writing for pleasure and profit, is highly adaptable and can write in a number of styles on a variety of themes," says Harris.
Harris and Meyers went on to state, that they are making a push into managing corporate clients. This includes managing their social media (Facebook, Twitter etc), blogs and more. They have the ability to not only create the content, but to also publish it automatically to their client's websites, social media or blogs. "We are striving to be an all-in-one solution for our corporate clients." says Harris.
HireWriters.com has also recently hired on an expert writer and accomplished author to help evaluate applications from new writers, as well as to enhance its specialist customer service support.
For further information or media inquiries, contact brandon(at)HireWriters(dot)com.