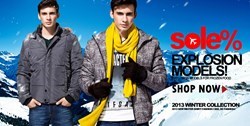 (PRWEB) February 13, 2014
Recently, Skmen.com, the world's leading clothing manufacturer and retailer, has updated its website with a new collection of cardigan sweaters for men. In addition, the company has launched a special offer on these clothes. Before the end of this month, all clients from around the world can get discounted rates, up to 32% off, when ordering the company's fresh sweaters online.
In addition to the low rates, any order above $500 can enjoy a free shipping fee. It is also worth mentioning that the new range of men's cardigan sweaters is delicately designed by the company's experienced designers; each of them is made according to hottest fashion trends.
According to the CEO of the company, its considerate online workers have listed the detailed information about all these high quality clothes. They strive to turn Skmen.com into a user-friendly platform for worldwide stylish gentlemen.
"We are proud to announce our new sweater for worldwide clients. Also, the special offer is launched because of our customers' requesting it. By launching such a promotion, we want to help worldwide customers to get comfortable clothes at affordable prices. All our products are made for gentlemen are looking for exquisite styling. Please note that the end of the promotion is February 28," he says.
About Skmen.com
Skmen.com, a China-based company founded in 2009, is one of the leading suppliers of men's and women's high quality clothes. It has more than 5000 customers from every part of the world; it hopes to help worldwide stylish ladies and gentlemen. For more detailed information about the company and its wonderful items, readers can visit http://www.skmen.com/product-cardigans-sweaters-009004.aspx.