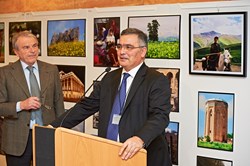 You will also see that Azerbaijan is home to many races and religions, and is a bridge between East and West – in short, a land of peace.
Brussels, Belgium (PRWEB UK) 12 February 2014
'Azerbaijan: The Land of Peace' – a remarkable free exhibition of 100 photographs showcasing Azerbaijan's traditions, life, culture and history – opened on 11 February at the European Parliament. The opening networking cocktail was organised by the Belgian office of The European Azerbaijan Society (TEAS), in collaboration with Niki Tzavela MEP (EFD, Greece). The selection of images provided an invaluable overview of everyday life in this western-facing, cosmopolitan, secular country, which is renowned for its religious tolerance.
Over 400 Members of the European Parliament (MEPs), European Council members, diplomats, European Parliament researchers and journalists attended the opening. Fiorello Provera MEP (EFD, Italy) said: "I welcome all of you to this unique and beautiful exhibition. This will introduce many of you to Azerbaijan, a country that is becoming increasingly relevant to Europe. In December, the EU and Azerbaijan signed important agreements during the Cooperation Council covering political dialogue, energy, policy, trade, investment and cultural collaboration.
"Azerbaijan and the EU are coming closer, mostly on energy issues, and my country – Italy – has now become a very important partner to Azerbaijan. However, the country should not solely be regarded as a source of gas and oil. You will also see that it is a wonderful historical land with beautiful landscapes, mountains and cities. Mrs Tzavela organised this exhibition to showcase Azerbaijani peace and tolerance, and this is evident in many of the photos. You will also see that Azerbaijan is home to many races and religions, and is a bridge between East and West – in short, a land of peace."
H.E. Fuad Isgandarov, Azerbaijani Ambassador to the Kingdom of Belgium, the Grand Duchy of Luxembourg and Head of the Azerbaijani Mission to the EU, commented: "It is a great pleasure to introduce our country to MEPs and other friends. In December 2013, the final investment decision (FID) was signed between the Azerbaijani government and the BP-led Shah Deniz Consortium that will make construction of the Southern Gas Corridor a reality. During the next few years, Azerbaijani gas will be piped to Europe through some of the most expensive infrastructure in the world. Development of the Southern Corridor will help to drive down gas prices for EU consumers.
"Azerbaijan and the EU countries share many common values and it aims to integrate with the EU family of nations. It should be remembered that Azerbaijan has managed to retain its stability and to develop, despite the ongoing Armenian–Azerbaijani conflict over Nagorno-Karabakh, the worst atrocity of which occurred on 26 February 1992, when the Khojaly Massacre claimed the lives of 613 men, women and children. Azerbaijan enjoys excellent relations with many countries, and seeks to bring about resolution to this conflict, based on goodwill."
Dr Asim Mollazade, Azerbaijani MP and Chairman, Democratic Reforms Party, said: "It is most apt to be in the European Parliament, as Europe is an important destination for Azerbaijan. We share common values with the EU, including democracy, human rights and the rule of law. A huge proportion of Azerbaijani territory remains under Armenian occupation, and it should be remembered that February is a very hard month for the Azerbaijani people due to the remembrance of the Khojaly Tragedy. Azerbaijan is represented in Brussels as it respects justice and rule of law. All international documents support the Azerbaijani perspective on the Nagorno-Karabakh conflict, and we expect the EU to pay attention and to seek justice.
"Azerbaijan has always faced towards the west, and was the first country in its region to combine European culture with that of the East. Azerbaijan now needs to transform the revenues from black gold into human gold, and to fully assimilate European values."
Ambassador Arif Mammadov, Head of EU Mission, Organisation of Islamic Co-operation (OIC) said: "When I was walking into this exhibition, I was struck by the colours. However, colours do not fill every aspect of our world – there is necessarily some black and white, and suffering is often portrayed in black and white. Those who suffer should be recognised, and the Khojaly Massacre should be remembered alongside other instances of ethnic cleansing."
Dr Roman Huna, Head, TEAS Belgium, concluded: "These pictures exemplify the peace in the country, which is an inescapable element of the Azerbaijani mentality, traditions and values. In Brussels, Azerbaijan is being brought to the European stage. The Khojaly Tragedy on 26 February 1992 was extremely serious and this exhibition helps us recall the sacrifice of the victims."
During the opening, vibrant music was performed by Azerbaijani violinist Dr Sabina Rakcheyeva, Cultural Advisor, TEAS, who was the first Azerbaijani graduate from the Juilliard School in New York. Playing alongside the London-based Deco Ensemble, she performed a range of works by the Argentine composer Astor Piazzolla, Vagif Mustafazadeh and arrangements of Azerbaijani traditional pieces.
Exhibition: Azerbaijan: The Land of Peace
11–14 February
Espace Escalateur,
Ground Floor – ASP 0 D,
Altiero Spinelli Building,
60 Rue Wiertz/Wiertzstraat,
1047, Brussels,
Belgium