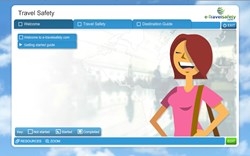 As the world becomes more accessible and travelled, so does the need to provide a cost effective, hassle free travel safety solution
Hereford, Herefordshire (PRWEB UK) 12 February 2014
As the world becomes more accessible and travelled, so does the need to provide a cost effective, hassle free travel safety solution. E-travelsafety.com believes that by incorporating a few simple actions when travelling, it will greatly increase your travel security.
E-travelsafety.com have designed and developed, a low cost, hassle free travel safety online training package. The interactive cloud based package, provides all the travel safety and travel security advice you need, to reduce the risk when travelling. This includes world-wide destination guides, a pre-travel risk assessment, how to react in emergency situations, downloadable guides and travel security hints and tips to help you stay safe when travelling.
The travel safety e-learning course is only £30 per year, that provides the user with all the travel security advice and training they need throughout this period. It is designed to be used over and over again and can be used for travel to any country in the world.
The course has been developed to suit a range of travellers, from a gap year student to a frequent business traveller. As the course has been developed in house it can be tailored to meet any specific organisational requirements. It is designed to fit into companies existing policies and procedures for travel, allowing an organisation to equip people sent on business with the correct tools and knowledge to reduce the exposure to risk. It is fully auditable and maintains a full record of everyone who has undertaken the course, to provide any company with the ability to demonstrate a duty of care to the employee.
E-travelsafety.com is offering a trial, of the travel safety package, that can be accessed by clicking here:
e-travelsafety.com provides travel safety advice, through an interactive e-learning package. The team has many years experience in travel safety and travel security, from teaching individuals, to multinational corporations, all around the globe. This has involved the delivery of pre-travel training, assisting deployment, and also managing travel, from remote locations, to tourist destinations. During this time e-travelsafety.com has gained an understand of the market and believed that a cost effective Travel Safety solution could be produced, that was not only hassle free but also easy to use by anyone.
Safe travels!