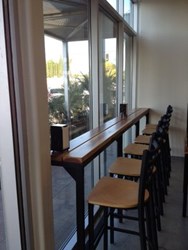 Los Angeles, CA (PRWEB) February 12, 2014
Leading restaurant furniture manufacturer and distributor Affordable Seating recently helped Cupid's Hot Dogs in its triumphant opening of a new location in Van Nuys, CA by supplying new seating.
Cupid's Hot Dogs is considered an institution in the San Fernando Valley suburb of Los Angeles, CA. Cupid's was originally established in 1946 as Walsh's Hot Dogs by Richard F. and Bernice Walsh. Shortly thereafter Richard changed the name to Cupid's; which was Bernice's nickname. For nearly 40 years Richard F. and Bernice ran the North Hollywood, Van Nuys and Canoga Park locations.
Cupid's Hot Dogs recently returned to Van Nuys and reopened a new location there. Cupid's is also famous for their special signature chili and Coney Island style hot dogs. The Los Angeles Times has called Cupid's "The Hot Dog Giant for Over 50 years".
"As a venue that brings in a wide variety of customers and experiences heavy traffic every day, the owner of Cupid's Hot Dogs was looking for sturdy, new chairs and bar stools that would help make a statement and also last a long time," Affordable Seating sales representative David M. explained.
"The owner contacted Affordable Seating for new bar stools because of their reputation for high quality at competitive prices," explained Dave. "He decided to go with Affordable Seating's Metal Ladder Back Chair and matching bar stool in black frame and solid wood seats in natural finish. The Metal Ladder Back Chairs currently sell for $31.50 and the Metal Ladder Back Bar Stools are on sale for $49.99."
The Metal Ladder Back Chair comes with a standard black sandblast frame finish, plastic glides. The frame is available in 5 different finishes Customers can choose between a solid wood seat or a padded seat. The padded seat made in the USA of high density foam and material. The wood seat is available in 6 different finishes and for an upholstered seat there are many options to choose from.
Affordable Seating offers many options customers to choose from for all of its restaurant furniture. Clients can choose to customize their furniture with a custom made wood finish or special material for the padded seat, which is made from American materials.
The Metal Ladder Back Chairs and Bar Stools are the most popular choices for restaurants and bars. They are stylish and versatile enough for any type of establishment. They are also very tough and durable, which makes them a great choice and a wise investment. All of Affordable Seating's products come with a limited lifetime warranty.
To view Affordable Seating's full selection of restaurant chairs, bar stools, booths, tables and patio furniture visit http://www.affordableseating.net or call a customer service representative at (888) 495-8884.
Cupid's Hot Dogs is located at 14308 Victory Blvd. in Van Nuys, CA. They can be contacted at (818) 902-0993.