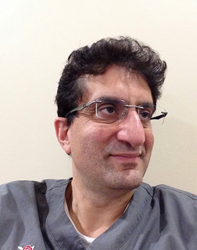 I welcome good quality products which will help children to brush their teeth more effectively.
(PRWEB) February 12, 2014
Tariq Drabu is the renowned dentist, and respected owner of the Langley Dental Practice in Middleton, Manchester. He is also the Clinical Lead Dentist for the Oral Surgery Clinical Assessment and treatment Services for NHS Heywood Middleton and Rochdale. He was speaking recently about a newly launched toothbrush designed especially for young children. The toothbrush, made by the leading manufacturer, Philips, has been designed to help young children brush their teeth more effectively.
Tariq Drabu said, "The 'Sonicare for Kids' toothbrush has been developed for children between the ages of 4 and 10. I welcome good quality products which will help children to brush their teeth more effectively. Good oral hygiene must start at an early age in order to prevent serious dental problems in adulthood. It has been reported that this new toothbrush makes it easier for parents to help young children to clean their teeth."
He was referring to an article published by the Dentistry website announcing the recent launch of the toothbrush. The article can be read here.
Tariq Drabu went on to say, "Parents are increasingly busy in their working lives, but they still want to ensure that their children practice good oral hygiene. This new toothbrush is being hailed as an excellent tool to help young children succeed at brushing their teeth properly. It has been designed to fit into small hands and to properly clean the harder to reach areas of the teeth and gums. This is essential to ensure a young child does not develop cavities or gum disease, and it helps with the growth of new teeth ensuring they are healthy and strong."
Tariq Drabu has been a trusted and highly respected family dentist for over 25 years. He has seen first-hand how beneficial teaching good oral hygiene is, especially in young children. He continued, "Unfortunately, in the past, I have treated a number of young children with tooth decay and other problems resulting from ineffective oral hygiene. I am glad to say that over the years my colleagues and I have seen a marked improvement in the oral health of our youngest patients. However, more can still be done to ensure all children understand how to care for their teeth. At Langley, my colleagues and I do all we can to provide the information and guidance patients need to teach their children about oral hygiene. We focus on a message of prevention in terms of establishing good dietary habits and promoting good oral hygiene."
The new toothbrush has been designed to be visually appealing to young children, and to be much easier to hold and manoeuvre. It is available in various colourful designs which will also make it more attractive to young children.
Tariq Drabu closed by saying, "Studies show that young children from the target age group were able to remove more plaque and debris when using the new toothbrush. This is good news. However, I think it is important to also say that even traditional brushes are good, and much better than no brushing at all! Not all parents are able to purchase sonic brushes for their children, but as long as they are taught to brush effectively using a good quality children's' toothpaste, they will still be able to keep their teeth clean and healthy. I welcome all new developments that make it easier to keep our children's teeth healthy. As a profession we should be encouraging our patients to educate their families and assisting them to do this in every way possible."
About Dr Tariq Drabu
Dr Tariq Drabu is a highly experienced and well known Manchester dentist and GDC registrant. He is accredited as a Specialist in Oral Surgery by the General Dental Council. Dr Tariq Drabu practices at his Langley Dental Practice in Manchester. Dr Drabu is a leading name in dentistry, with more than 25 years' experience in both general practice and hospital dentistry. Dr Tariq Drabu is also the Clinical Lead Dentist for the Oral Surgery Clinical Assessment and Treatment Services at NHS Heywood, Middleton and Rochdale. He is a specialist staff member at The UCLan Dental Clinic in Preston.