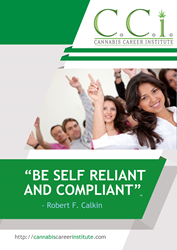 Don't wait for the laws to be enacted before learning how to create and manage a successful Medical Marijuana Business. Learn to be self reliant and state compliant before laws come into effect...
Philadelphia, PA (PRWEB) February 25, 2014
Pennsylvania has long been one of the toughest states on Medical Marijuana and with the volatility of the political realm, medical marijuana has become the center focus for many groups, political agendas, activists, petition movements within the state of Pennsylvania.
As other states, like Colorado and Washington, decriminalize medical marijuana or recreational use cannabis, focus on budget issues and realization of expenses caused by criminalizing marijuana has given many politicians a larger platform to advocate with.
The recent submissions of legislation regarding medical usage of cannabis appears to have a decent chance of making a much needed change to current laws. Should the recent Senate Bill pass, medical marijuana will become a viable option for Pennsylvania entrepreneurs. When that happens, businesses will need to have the right professional training in the cannabis industry in order to compete with Corporations that might take over.
Recent medical and scientific studies, specifically regarding Cancer and Multiple Sclerosis, have shown the definite benefits of medical marijuana usage for patients who suffer on a daily basis.
Colorado has seen a $1.3 million to $3 million dollar tax benefit - in only one month and Washington has reported similar results. This means jobs have been created, businesses established and patients have had access to medical marijuana that was previously denied to them.
Following on the heels of those states, Pennsylvania politicians and PA political candidates have spoken vociferously and have begun the process to make medical marijuana legal.
Cannabis Career Institute arrives in Philadelphia on March 2nd, 2014 to teach business aspects of the medical marijuana industry to entrepreneurs wanting to capitalize on the potential $600 Billion dollar industry. Far from being a "stoners" perspective, CCI class teaches students industry standards, legal regulations based on each individual state and provides a structured learning environment for those students who are serious about the industry and wish to prepare for a legitimate, successful business when the medical marijuana laws change in Pennsylvania. The class also discusses other opportunities available within other states, which will allow students to understand just how large the professional side of the cannabis industry is.
John Veit, well known as a Marijuana Journalist and High Times Reporter, will be the Speaker and Host for this Philadelphia, PA Business Training Class and as a special guest. Veit is originally from Philadelphia and is a welcome part of the CCI Faculty.
Cannabis Career Institute has been the national leader in setting the standards for business training and certification in the cannabis industry since their inception in 2009, by noted activist and educator Robert F. Calkin. The main goal of CCI is to help the industry succeed in the most efficient manner, while maintaining strict compliance to each individual state's regulations.
Students can expect to learn a variety of topics when attending the class and will walk away with the knowledge to build a strong foundation with which to create a successful business within the cannabis industry. Topics include: Business plan formation, legal regulations, starting a dispensary or medical marijuana delivery service, managing a dispensary and medical marijuana delivery service, creating and maintaining a grow operation, information on edibles and extracts, patient qualifications, patient information, zoning issues, collective structures, non-profit organization structures, and much more. The full day class has scheduled speakers from various segments in the industry who are considered the head of their prospective fields. Students will be allowed to network and ask questions to help them understand the potential for their future endeavors in the medical marijuana industry.
Don't wait for the laws to change within your state to become educated in the business side of this industry. Even if you're not able to start a cannabis business in your current state, you will learn about other locations that medical marijuana is currently legislated for and how those businesses are properly run.
Get informed, become self reliant and remain compliant by attending this business training class that will cover the topics you need to get involved in the future of medical marijuana.
Class will be hosted on March 2nd, 2014 Cannabis Career Institute - and is a full day educational training on the business side of the Cannabis or Medical Marijuana Industry hosted at:
The Hilton Airport Hotel
4509 Island Drive
Philadelphia, PA 19153
Students are suggested to register at least 24 hours in advance of the class, however walk-ins and last minute sign ups will be accepted.
Contact Cannabis Career Institute at (800) 753-2240 to learn more or visit their website.
Press Release prepared by: Meki Cox